Volatility has returned to the US equity markets with a vengeance. Stocks were flying smooth last year and always seem to go in only one direction. That is no longer the case. Right the start of the year, starts are swinging wildly taking  investors on a stomach churning ride. Even professional investors are struggling to keep with the market as their bets on hi-flyers start to sour.
But retail investors have an edge over professional traders and investors. Unlike them, retail investors need not worry about beating a benchmark or increasing their reputation or even earning a bumper bonus. In times like these retail investors can simply ride out the storm and not make any rash decisions. The key is to be patient and not get carried away by emotions.
The performance of the S&P 500 over many decades shows that stocks mostly tend to earn a positive return for the year despite going thru dramatic intra-year declines as shown in the chart below:
Click to enlarge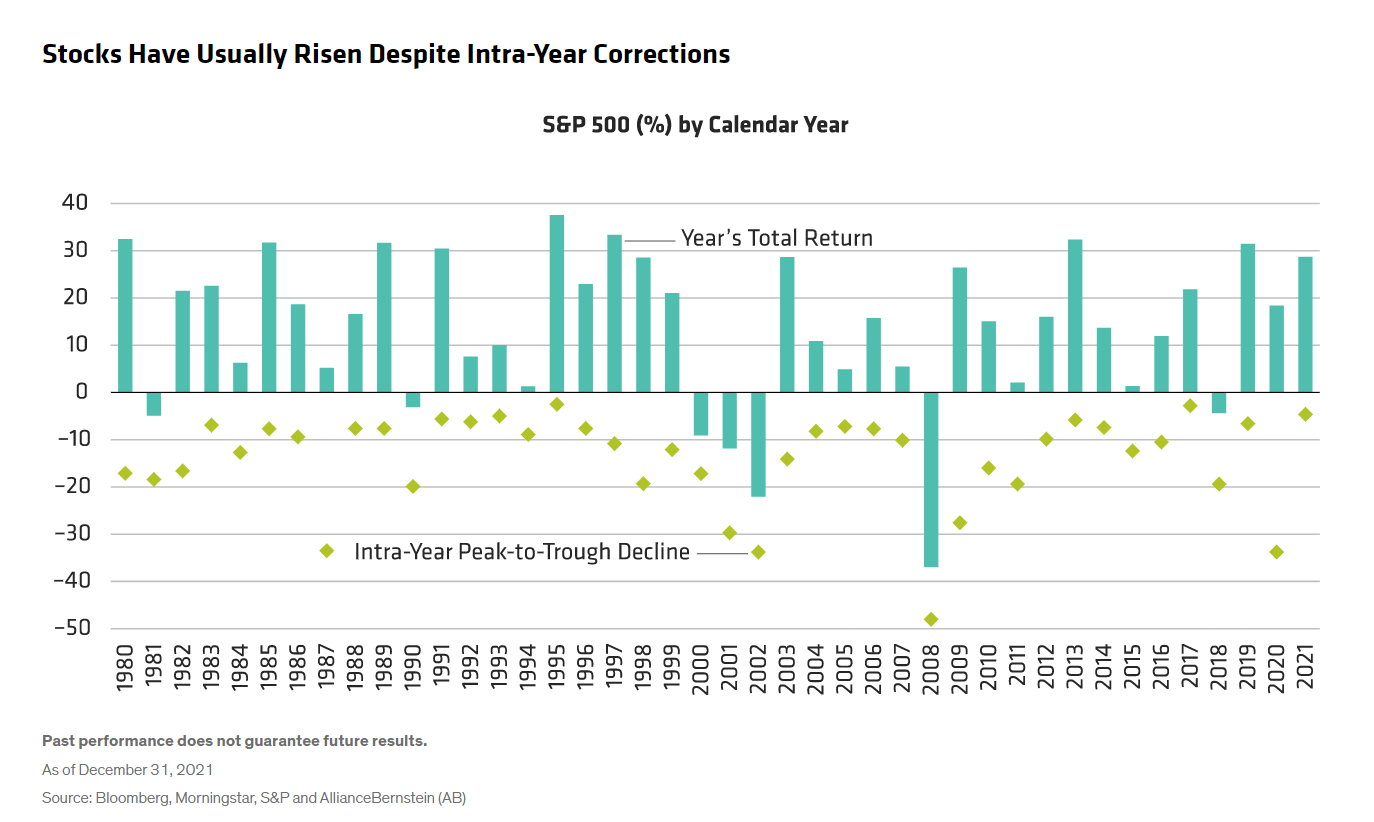 Source: Equity Market Correction Opens Door for Quality Recovery by Chris Hogbin, AllianceBernstein
When stocks fall on a given day this year, one can always find a reason for that. Some of the reasons include:
Rising interest rates
Uncertain growth rates
Covid-19
Russian invasion of Ukraine
Supply chain issues
China attacking Taiwan
Relentless rise in oil prices and so on.
The list of causes of a plunge are endless. Stocks always try to climb a wall of worry. There is hardly any year or day where everything is perfect. There will be always be something negative happening somewhere in the world.
Instead of worrying about all these factors that are beyond one's control, investors can simply focus on things that are under their control and adhere to their long-term investment goals. So even though stocks may swing wildly most of the times they return positive returns.
Disclosure:
SPDR S&P 500 ETF Trust (SPY)
Disclosure: No positions