The sectors composition of the US and Canadian equity markets differ widely. The Canadian market as represented by the TSX index is heavy in energy, financials and materials. Together these sectors make up over two-thirds of the index. On the other hand, the S&P 500 is highly concentrated in the information technology sector. Overall the Canadian market is dominated by cyclical sectors which tend to move up and down with the economy. When the economy expands, cyclicals grow and vice versa. Counter-cyclical sectors do not move in lockstep with the economy. Example of this sector include utilities and consumer staples. Consumers depend on them regardless of the state of the economy.
The following chart shows the comparison of the US and Canadian equity markets:
Click to enlarge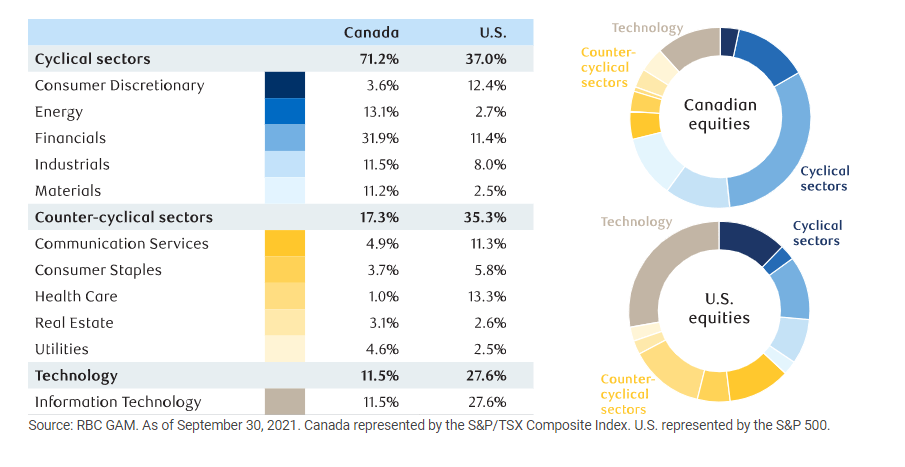 Source: What's the relationship between the stock market and the economy?, RBC Asset Management
Following a strategy based on the sector composition of the markets, investors looking to profit from growth in US equities can go with with US mega caps such as Amazon(AMZN), Microsoft(MSFT), Apple(AAPL), etc. Similarly, those that want to diversify and add stocks from Canada are wise to add banks like Bank of Nova Scotia (BNS), Royal Bank of Canada (RY), Suncor Energy Inc (SU), etc.
Disclosure: Long BNS, RY