Canadian bank stocks have performed very well so far this year with all increasing by double digit percentages. NYSE-traded shares of Bank of Montreal(BMO), The Canadian Imperial Bank of Commerce (CM) and Royal Bank of Canada(RY) reached their 52-weeks on last Friday. These banks are slated their announced their second quarter earnings this week. Analysts are forecasting most of them beating the estimates. The major Canadian lenders' stocks may run  further as they are trading at 11.5 times forward earnings relative to 12.65 for their US peers. In addition, reserve releases could also boost their stock prices according to an article at Financial Post.
The following chart shows the year-to-date return of the five major banks of Canada:
Click to enlarge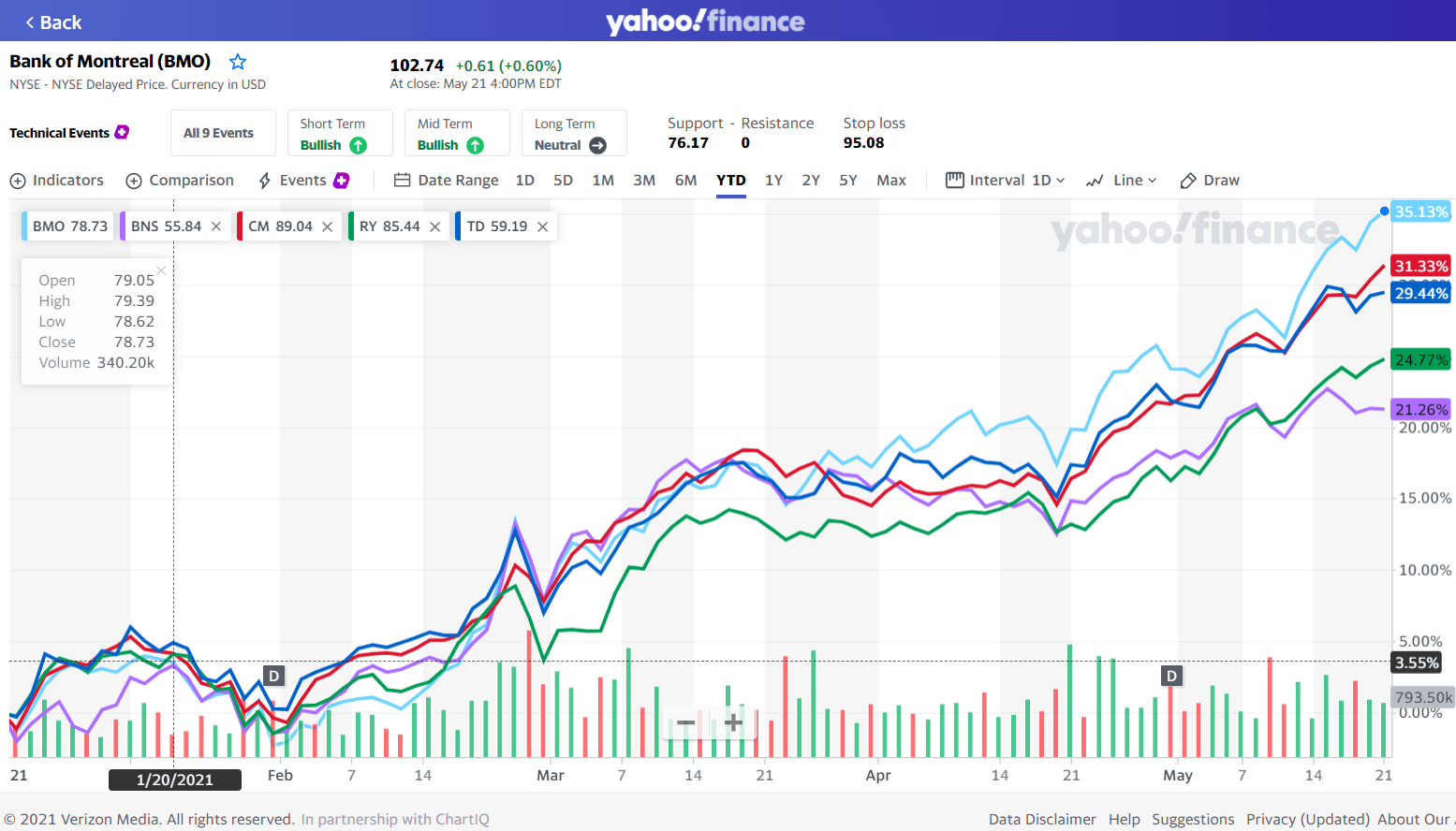 Source: Yahoo Finance
From an opinion piece at Financial Post:
In the next three to four quarters, the Canadian banks could release between $6 and $8 billion in reserves ((also known as "allowance for loan losses"), which would have a material impact on share prices, both indirect and direct.

While all credit cycles are unique, they have distinct stages for the banks and this COVID credit cycle has been no different. The first stage was three quarters in duration, starting in Q2 2020, and characterized by rising loan losses (to build reserves), depressed earnings, downward pressure on capital and economic uncertainty.

The Canadian banks are now in the recovery stage of the credit cycle, which should offer three catalysts for bank shares in 2021:

normalization of profitability and forward estimates — already in evidence in first-quarter earnings reports
reserve releases (or reversing credit losses previously booked, back into earnings)
higher margins from steeper yield curve pricing in the potential outsized GDP growth quarters, and higher long-term inflation expectations.

In the coming quarters, reserve releases, the most visible confirmation of the recovery, could be the next catalyst for bank stocks.
Source: Opinion: Canadian bank stocks to get a boost with release of $6 to $8 billion in reserves, Financial Post
Related:
Referenced Stocks:
1.Company: Bank of Nova Scotia (BNS)
2.Company: Bank of Montreal (BMO)
3.Company: Canadian Imperial Bank of Commerce (CM)
4.Company: Royal Bank of Canada (RY)
5.Company: Toronto-Dominion Bank (TD)
Disclosure: Long all five banks