In 1900, the US and UK equity markets looked a lot different than today. The US was an emerging market in the beginning of the 20th century while the UK was colonial super power. Now the UK is just another developed country but no longer a power. Unlike other emerging countries, the US economy grew dramatically in the past century or so and remains the dominant economy in the world.
With that said, the recently published Credit Suisse Global Investment Returns Yearbook 2021 contains many fascinating facts. One chart that caught my attention is the below chart comparing the industry weightings of US and UK equity markets in 1900 and now:
Click to enlarge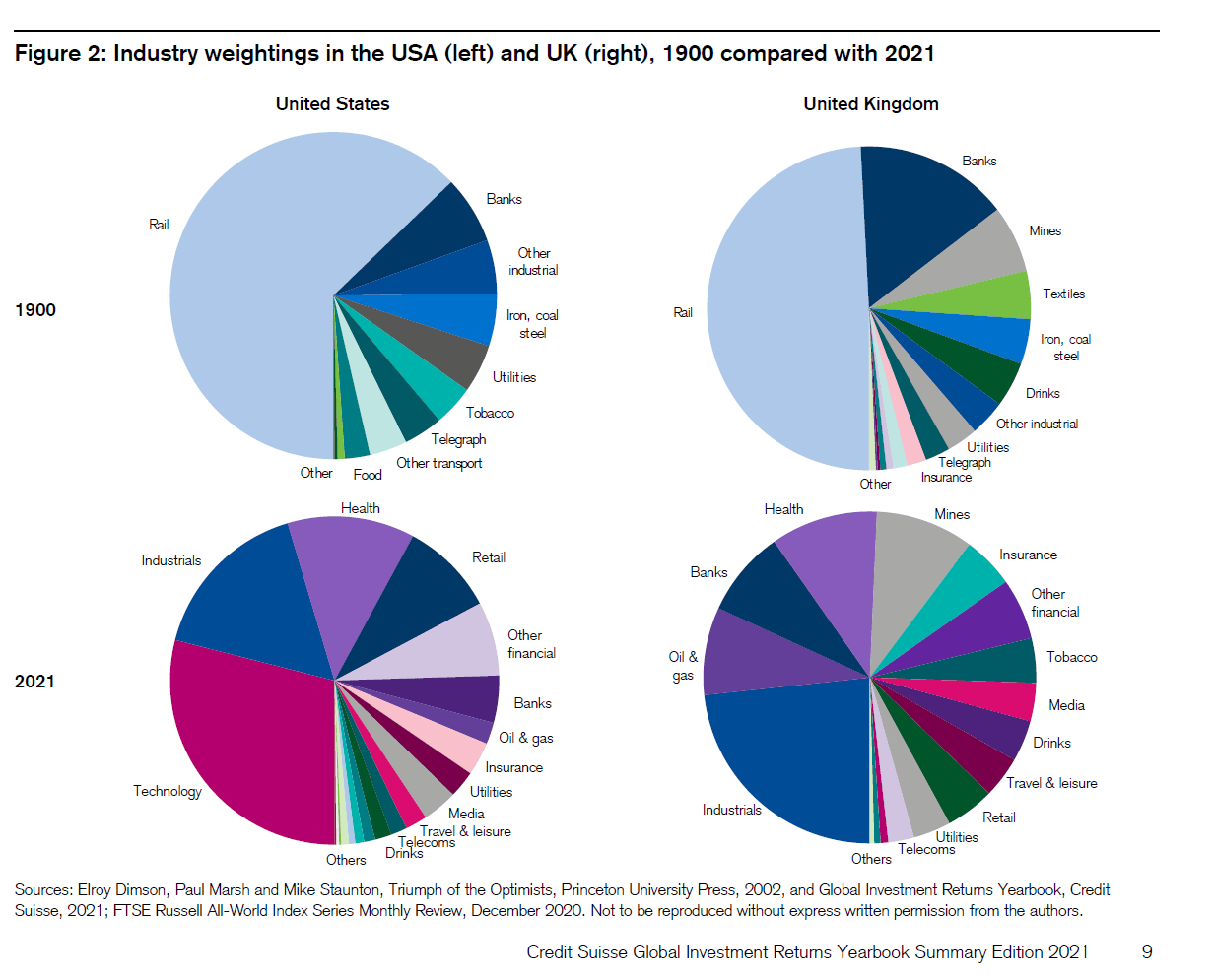 Source: Credit Suisse Global Investment Returns Yearbook 2021, Credit Suisse
An excerpt from the report:
At the start of 1900 – the start date of our global returns database – virtually no one had driven a car, made a phone call, used an electric light, heard recorded music, or seen a movie; no one had flown in an aircraft, listened to the radio, watched TV, used a computer, sent an e-mail, or used a smartphone. There were no x-rays, body scans, DNA tests, or transplants, and no one had taken an antibiotic; as a result, many would die young.

Mankind has enjoyed a wave of transformative innovation dating from the Industrial Revolution, continuing through the Golden Age of Invention in the late 19th century, and extending into today's information revolution. This has given rise to entire new industries: electricity and power generation, automobiles, aerospace, airlines, telecommunications, oil and gas, pharmaceuticals and biotechnology, computers, information technology, and media and entertainment.

Meanwhile, makers of horse-drawn carriages and wagons, canal boats, steam locomotives, candles, and matches have seen their industries decline. There have been profound changes in what is produced, how it is made, and the way in which people live and work.
A few observations:
At the start of 1900, railroads dominated the US and UK stock markets with a weightage of 63% and 50% respectively of market values.
Industries such as iron ore mining, steel, coal and textiles have declines since 1900 to become a small part of equity markets now.
Telegraph was the technology of the time back then. Now telegraph is extinct but we have smartphones and other hi-tech devices.
Despite many ups and downs, railroad stocks have beaten airline and trucking stocks in the past 121 years.
The railroad industry has become almost non-existent in the UK equity market.
Select related stocks:
Disclosure: Long CSX, UNP, NSC