As we head into the first trading day for 2021 I was reviewing the top companies in Canada and what I found surprised me. The Most Valuable Company in Canada based on Market Capitalization is the e-Commerce platform provider Shopify Inc(SHOP). Unlike the US, the tech industry is tiny in Canada and not many tech Canadian companies are known as world leaders. Usually banking giant Royal Bank of Canada (RY) held the top rank in market capitalization. So Shopify overtaking RBC is indeed surprising.
Shopify ended 2020 with a stunning market cap of over $137.0 billion (in USD). The firm is one of the winners in the pandemic as more consumers went online for shopping. As with other tech giants, the P/E ratio is very high at 699 per Yahoo Finance.
Compared to Shopify, RBC's market cap stood at $116.0 billion and TD Bank (TD) ranked third with $102.0 billion. Of the top 10 companies by market cap, athletic apparel retailer Lululemon Athletica Inc.(LULU) is another notable company with a market cap over $45.0 billion.
The following are a few fun facts from an article at BNN Bloomberg:
The last company to overtake RBC was the infamous Valeant Pharmaceuticals in 2015. Later it plunged as short sellers uncovered it to a be fraud of epic proportions.
Before that Research in Motion Corp, the maker of Blackberry became the most valuable firm in 2007 only to be completely overtaken by Apple(AAPL) and other smartphone makers.
Before RIM, Nortel Networks Corp was the biggest Canadian firm during the dot com era in 2000. When the dot com bubble popped Nortel plunged as well and field for bankruptcy in 2009.
Here is a comparison of Shopify and RBC from another article at BNN Bloomberg: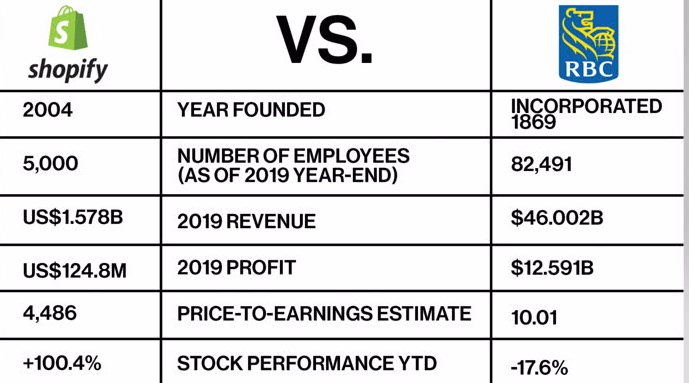 Note: The figures noted above are from May, 2020
Source: Shopify displaces RBC to become Canada's most valuable company, BNN Bloomberg, May 6, 2020
It remains to be seem if third time can be a charm for Canada. Or like RIM and Nortel before Shopify will also end up losing the top rank in the future.
Disclosure: Long RY, TD