The equity market of mainland China is the second largest market in the world. The market cap of the domestic stocks, known as A-shares is about $10.0 Trillion.  The following chart shows the largest stock markets in the world:
Click to enlarge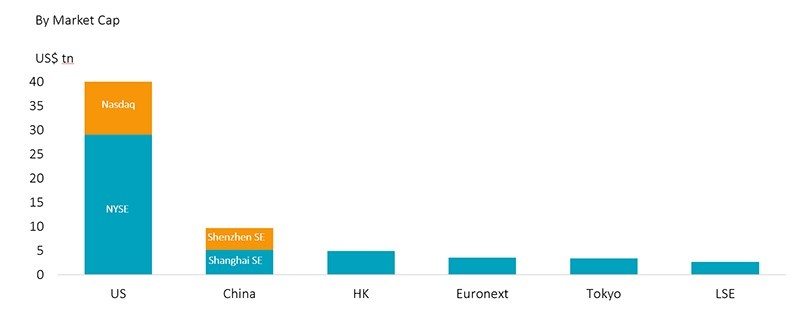 Source: Sizing up Chinese equities – a market too big to ignore by Jie Lu, Robeco
Global investors may want to pay attention to the Chinese market as the economy is projected to grow 3% this year. This is a respectable rate of growth considering most other countries especially in the developed world are in a recession. Moreover, China used to be original epicenter of Coronavirus But that is no longer the case as the country successfully controlled the spread of the virus with just 93,723 cases and 4,634 deaths so far.
How to invest in China stocks?
One easy way for US investors to invest in China is via ADRs. Currently there are about 147 Chinese ADRs trading on the US exchanges. Another 156 trade on the OTC markets.
What major Chinese firms trade on the US exchanges?
Below are some of the big companies trading on the US exchanges:
Disclosure: No Positions