The UK is one of the top equity markets for dividends. Traditionally British firms have a dividend yield that is substantially higher than their US peers For instance, the dividend yield on the FTSE 100 at the end of June was 4.81%. This is more than double that of the S&P 500 rate which is just under 2%. However the coronavirus pandemic and the economic recession it triggered has led to many British companies slashing or suspending dividend payments. According to a recent report called the UK Dividend Monitor by Link Group the dividends have plunged by 57% in the second quarter.
Click to enlarge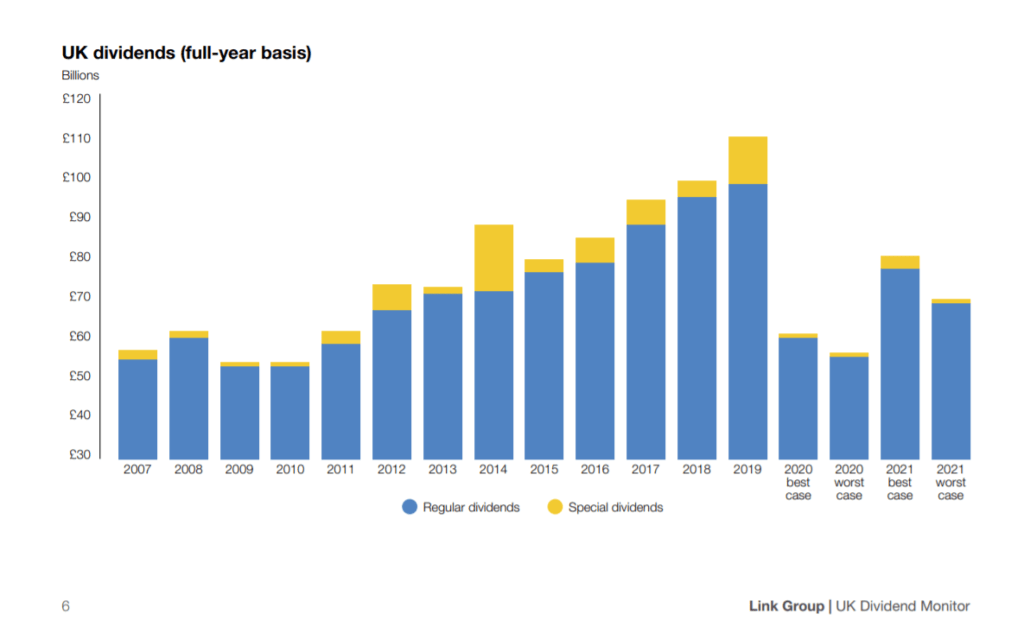 Source: UK Dividend Monitor Q2, 2020, Link Group
Below is an excerpt from an article at Citywire on this topic:
In the second quarter, 176 companies cancelled payouts and 30 cut them, representing three-quarters of those paying in the period. Payouts fell by £22bn to £16.1bn on a headline basis and by £16.4bn to £16bn on an underlying basis when special dividends were stripped out.

Payments from FTSE 100 stocks fell 45% while those from UK 'mid-cap' companies listed on the FTSE 250 dropped 76%. The cuts dwarfed those seen in the aftermath of the global financial crisis in 2008, when just two-fifths of companies cut or cancelled dividends.

While the second quarter dividend decline is the biggest on record, Link's estimates suggest little sign of improvement for the rest of this year.

The report estimated that in a best-case scenario, dividends would fall 39% to £60.5bn on an underlying basis this year, or 45% when special dividends were factored in. In Link's worst-case scenario, dividends will fall 49% on a headline basis and 43% to £56.3bn on an underlying basis.
Source: UK dividends crash 57% as coronavirus takes toll, Citywire
This is not surprising since some of the major dividend payers have cut dividends. Banks for example have been forced to suspend dividend payments by the Bank of England. So Barclays (BCS), HSBC (HSBC), Lloyds Banking Group (LYG), Royal Bank of Scotland (RBS) and Standard Chartered (SCBFY) have suspended dividends.
Other companies that cut dividends include oil major BP PLC(BP) which axed its payment by 50% earlier this month. This is the first time the company has reduced payments in a decade.
From an investment perspective, income investors can avoid British banks for now. Other firms should return to their normal payouts once the current crisis ends.
Disclosure: Long LYG