The total Covid-19 cases in the U.S. exceeds 1.6 million and the number of deaths 96,610 as of May 23, 2020 according to NY Times. Vietnam on the other hand has had just 324 cases so far with no deaths according to published data. The sharp contrast in these figures between the countries will be studied by scientists and academic experts once the pandemic is over.
Below is chart comparing the death toll of US and Vietnam:
Click to enlarge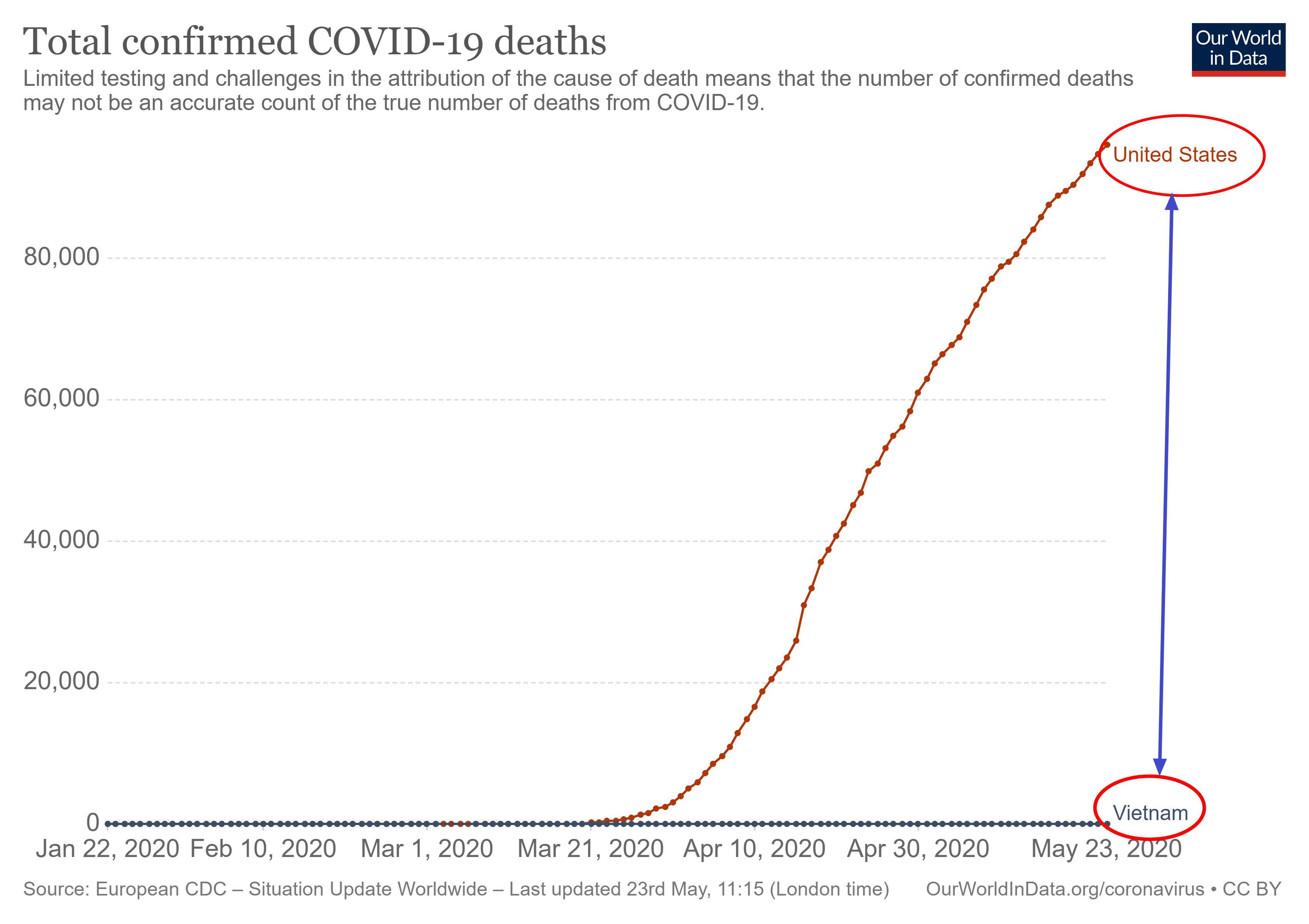 Source: Our World In Data
The following is an excerpt from a piece on this subject published in April in Asia Times:
"Our team up in Hanoi is working very, very closely with their Ministry of Health counterparts," said the US Centers for Disease Control and Prevention's representative in Thailand, John MacArthur.

"The communications I've had with my Vietnam team is that at this point in time, [they] don't have any indication that those numbers are false," MacArthur said, according to US National Public Radio.

The US also did not coordinate the information in their health and safety messages to the public, or blanket the country with broadcasts, print media, street posters and other ubiquitous warnings and reminders which Hanoi did on a scale reflecting its mass mobilization efforts during the war.

Hanoi's impressive twin successes – both against America during the war and now in containing the spread of Covid-19 – have been achieved by commanding citizens to act, manipulating media and controlling public and private enterprises.

The Communist Party's tight hold on then-North Vietnam, and on today's united Vietnam, have enabled Hanoi to respond with comparatively limited resources.
Source: Why Vietnam won and US lost their Covid-19 wars, Asia Times
From a piece in The Guardian on the success of Vietnam:
Vietnam didn't just flatten its coronavirus curve, it crushed it. No deaths have been reported, official case numbers have plateaued at just 271, and no community transmissions of the virus have been reported in the last two weeks. On 23 April, the nation eased lockdowns in its major cities and life is gradually returning to normal. It is a stark contrast to many other nations including the US, where more Americans have died from Covid-19 than during the entire Vietnam war.

Kidong Park, the World Health Organisation's representative to Vietnam, has praised the country's response to the crisis.

Quarantining tens of thousands in military-style camps and vigorous contact tracing procedures have helped Vietnam to avoid the disasters unfolding in Europe and the US. After testing over 213,000 people, the nation has the highest test-per-confirmed-case ratio of any country in the world. A creative public information campaign featuring viral handwashing songs and propaganda-style art helped, but it was decisive early action – hastened by a government praised for its response to Sars in 2003 – that proved most effective.
Source: Vietnam crushed the coronavirus outbreak, but now faces severe economic test, The Guardian, May 5, 2020
Related: