The US equity market recovered strongly from the lows reached in March only to start plunging again in the past few days. Fears of a second wave of Covid-19 infections and soaring death toll is taking a toll on the market. Not to mention the astonishing rise in the number of unemployed Americans that total over 36 million now. These millions of individuals are not only not working but also not consuming much as their income has suddenly evaporated. This will have a tremendous impact on banks in the country.
As the banking sector is considered as the pillar of the economy, it is very important to keep an eye on the performance of banks. Unemployed people are going to have trouble paying everything from car loans to credit cards to mortgages to everything in between. In addition to that, not many are going to get a new loan to buy things like a house, car, go on a nice vacation, etc. The KBW Bank Index has declined substantially year-to-date. This index represent the 24 major banking institutions in the country. As of market close yesterday the index is down just over 42%.
The KBW Bank Index Year-to-date Return:
Click to enlarge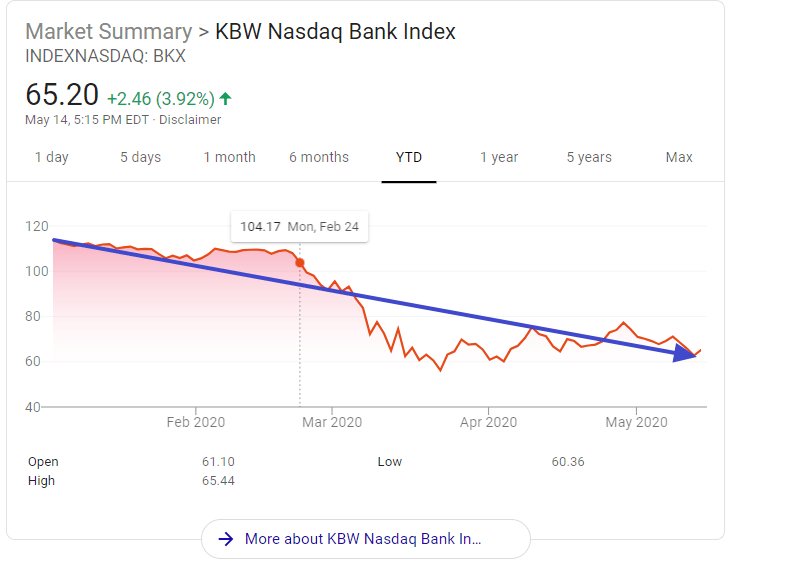 Source: Google Finance
Most of the major banks are trading at or close to 52-week lows. For example, regional lender US Bank(USB) closed at $31.17 today which is not far from the 52-week low of $28.36.
The full list of US bank stocks trading on the NYSE can be found here. And the ones listed on the NASDAQ are here.
Declining share prices have raised the dividend yields of bank stocks. However not all banks are secure dividend plays at this time. Reduction or suspension of dividends is anticipated at least for some of the banks. Below is an excerpt on this topic from an article at Marketwatch:
Investors are looking ahead to a difficult credit cycle. The Dodd-Frank legislation in 2010 raised banks' capital requirements and strengthened regulatory oversight. There is no talk of bank bailouts this time around.

Then again, Federal Reserve Chairman Jerome Powell said Wednesday that a survey by the central bank found that 40% of people in households earning less than $40,000 a year that were counted on payrolls in February had lost their jobs in March.

That points not only to loan forbearances and credit losses, but also to continued pain for countless businesses of all sizes that owe money to the banks.

So it is not surprising that some banks have already reduced their dividends to shore up cash.
Source:Wells Fargo leads list of bank stocks at risk for dividend cuts, Marketwatch
Should the economy get even worse and there is on improvement in the unemployment levels or COVID-19 situation, we can expect further hair cuts in the stock prices of banks. Now is not the time to jump into this volatile sector. But interested investors can keep an eye for the evolving landscape.
Disclosure: Long USB