The Lithium Triangle contains over 70% of the world's lithium reserves. The below map shows the location of this resource-rich area:
Click to enlarge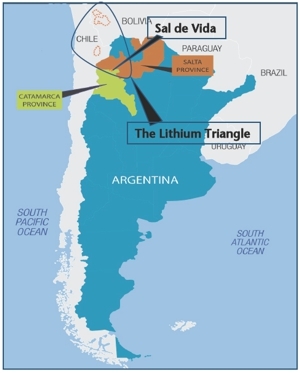 Source: gxy.com
From The Absolute Return Letter by Niels Clemen Jensen:
Lithium can be found on all continents. China has significant reserves and so does Australia, but South America holds the biggest reserves and produces the most lithium – the majority of it in an area called the Lithium Triangle, which is where Argentina, Chile and Bolivia meet (Exhibit 3). The Lithium Triangle accounts for well over 50% of global lithium production.

The Lithium Triangle is known for its high quality salt flats, including Bolivia's Salar de Uyuni, Chile's Salar de Atacama, and Argentina's Salar de Arizaro. The Lithium Triangle is believed to contain over 75% of existing known lithium reserves with Bolivia alone accounting for about half of global reserves.
Source: The Absolute Return Letter – Nov 2018, Absolute Return Partners
Updates (9/17/23):