Dividend artiscrtats are established and reputable companies that have paid dividends over many years. A list of such companies exists for the US, Canada, UK, etc. I have never seen for Germany on the internet until now.
The German Dividend Aristocrats List was published by a contributor named rickrack on Seeking Alpha. The The German Dividend Aristocrats List is comprised of 28 firms as of June, 2016.
According to his research there are only 6 firms that have increased their dividends for 10 years or more and 22 companies have maintained their dividends for 10+ years.
The Complete List of The German Dividend Aristocrats are shown in the table below:
Click to enlarge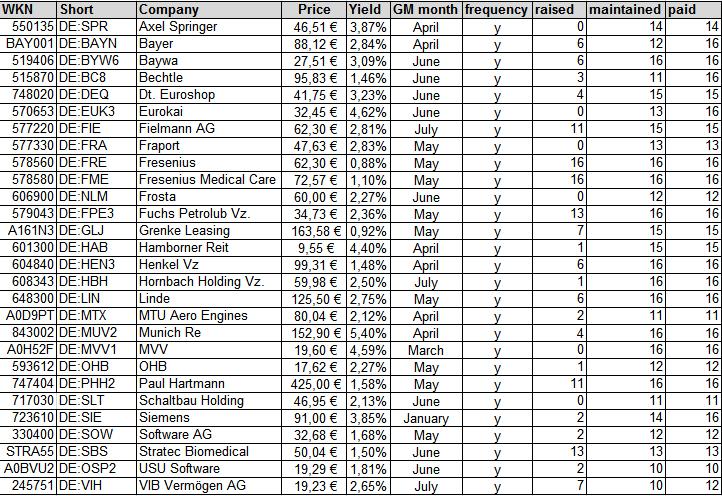 Notes:
y – Yearly
raised – Number of years dividend was raised
paid –  Number of years dividend was paid
Source: A New Source For Dividend Growth Investors: The German Dividend Aristocrats, Seeking Alpha
Investors looking to invest in German firms can checkout the entire article at the above link.
One of the notable dividend payers in Germany is reinsurer Munich Re (MURGY) has not reduced its dividend payments since 1969. Inlay man's tems Reinsurance companies provide insure for insurance companies.
Disclosure: No positions