High-speed rail line is defined as a line (or) section of lines in which trains can operate at speeds of 250 km/hr or more (or 155 miles/hr or more). The high-speed rail network varies among developed countries. Japan is a pioneer in this field while Europe has an excellent network connecting major cities. Today after Japan, the European countries of Spain, France and Germany have the most high-speed lines.
China is a relative new-comer to this form of transportation. However the communist country has made incredible progress in recent years leading to become the country with the largest high-speed rail network in the world. Currently China has 23,914 kilometers of high-speed rail lines. This far outpaces the European countries and even Japan as shown in the chart below.
Another fact to be noted is that while communist China beat Europeans and Japanese in the growth of high-speed rail, capitalist USA lags way behind. Compared to the nearly 24K kms in China, the US has 362 kms of high-speed rail according to a report by UIC. This single line exists on the North-East corridor connecting Boston, DC and New York. The rest of the country is basically a "dead zone" in terms of high-speed rail. In addition to China, even Turkey – a developing country is ahead of the US  with 688 kms of track in operation. It is indeed a mystery why the country that put a man on the moon has lost its way and lags far behind in terms of building out world-class efficient transportation systems.
The following chart shows the high-speed rail lines in the world that are in operation:
Click to enlarge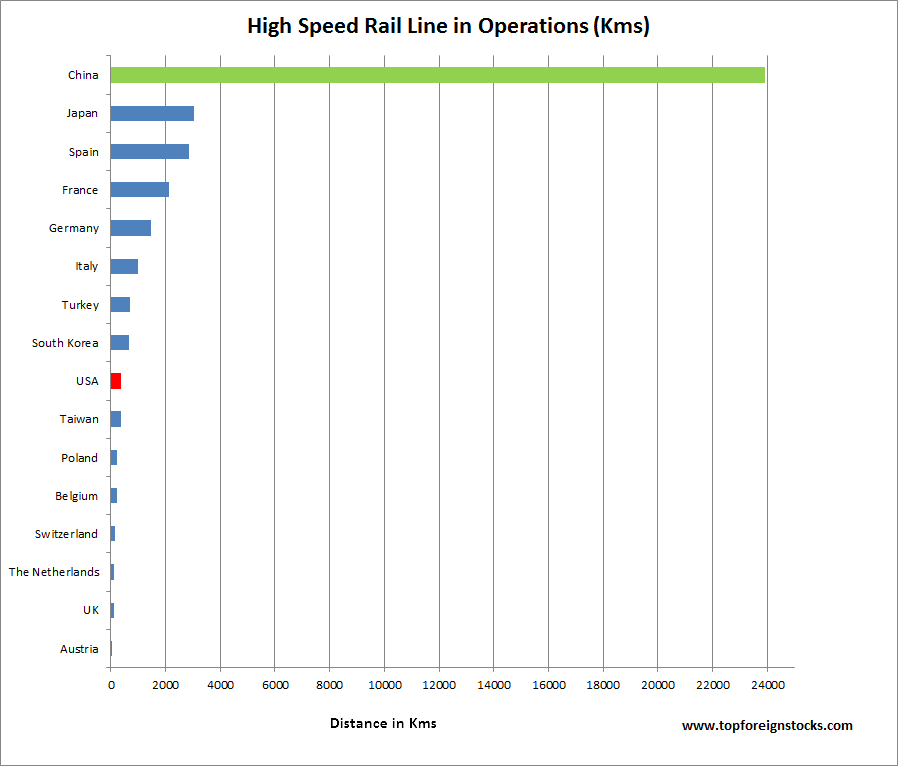 The table shows the data related to the chart above:
| Country | High Speed Rail Line in Operations (Kms) |
| --- | --- |
| China | 23914 |
| Japan | 3041 |
| Spain | 2871 |
| France | 2142 |
| Germany | 1475 |
| Italy | 981 |
| Turkey | 688 |
| South Korea | 657 |
| USA | 362 |
| Taiwan | 354 |
| Poland | 224 |
| Belgium | 209 |
| Switzerland | 144 |
| The Netherlands | 120 |
| UK | 113 |
| Austria | 48 |
Data Source:High Speed lines in the World – UIC Passenger Department, Union Internationale Des Chemins (UIC)
Some countries including Morocco in Africa are starting to build high-speed rail networks after seeing the benefits of this form of transportation in other countries. In a follow-up article I will discuss about these lines that are under construction.
Download: High Speed lines in the World 2017 (pdf report)