The Canadian banking industry is saturated as the market is small. So large domestic tend to diversify among other markets The US is one of the obvious choices for these banks due to close proximity and the size of the market. Among the six major Canadian banks, TD has the most exposure to the US followed by BMO. National Bank of Canada depends on the domestic market for most its revenues. Of the other large five banks CIBC is most exposed to the local market. Hence CIBC is acquiring Illinois-based PrivateBancorp(PVTB) in order to expand in the US.
Click to enlarge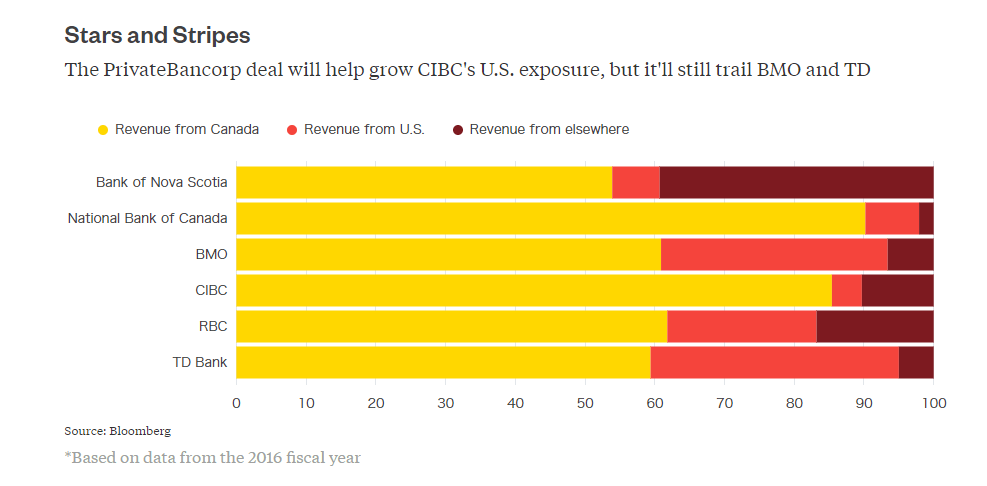 Source: CIBC's Close Call Is Cold Comfort for Canadian Banks, Bloomberg
Outside of Canada, Bank of Nova Scotia generates more of its revenues from regions other than the US. Much of this revenues comes from the Caribbean and Latin American countries where the bank has a large presence.
The five major Canadian banks listed on the US exchanges are shown below with their current dividend yields:
1.Company: Bank of Nova Scotia (BNS)
Current Dividend Yield: 4.16%
2.Company: Bank of Montreal (BMO)
Current Dividend Yield: 3.76%
3.Company: Canadian Imperial Bank of Commerce (CM)
Current Dividend Yield: 4.86%
4.Company: Royal Bank of Canada (RY)
Current Dividend Yield: 3.82%
5.Company: Toronto-Dominion Bank (TD)
Current Dividend Yield: 3.89%
Note: Dividend yields noted above are as of May 12, 2017. Data is known to be accurate from sources used.Please use your own due diligence before making any investment decisions.
Disclosure: Long all five banks listed above.