The British equity market has recovered strongly since the Brexit decision early last year. One of the main reason for the resilence of British stocks is that most of the revenues of the FTSE 100 firms come from abroad. As a result, the FTSE 100 firms are dependent on the economies of foreign countries than the domestic market. Due to its former colonial roots many of UK's top multinational firms have strong presence in other countries especially in emerging countries which used to be ruled by the British. Some of these multinational firms such as Unilever(UL) and BP(BP) have had operations in emerging markets since the 19th century.
In general, investing in FTSE 100 companies is more of a bet on other countries than the UK.  According to an article at Schroder's only 29% of the revenues of FTSE 100 firms come from the UK.
The following graphic shows the revenue source for FTSE 100 firms by country/region:
Click to enlarge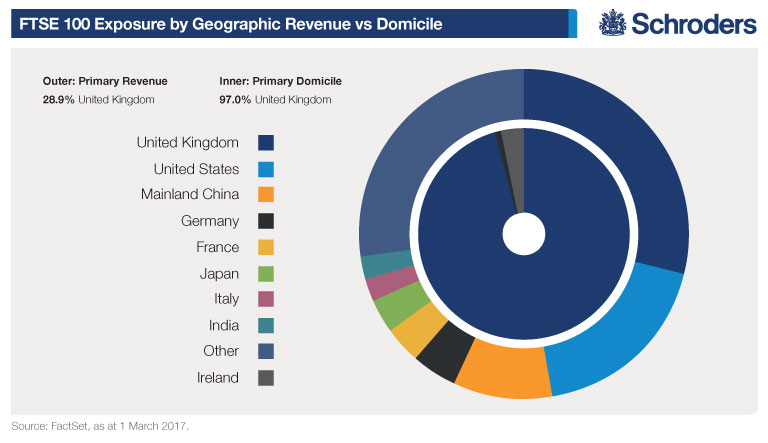 Source: The road to Brexit: what's next for investors?, Schroder's
The US is a top market for Footsie firms than France and Germany.
Related ETF:
iShares MSCI United Kingdom Index (EWU)
Disclosure: No Positions