India is one of the major economies among the emerging countries. Recently the Indian government announced that the economy grew at  7 % in the quarter when a demonitization program was launched to unearth untaxed and illegal money held by wealthy Indians.This figure has surprised many economists and investors. From a Bloomberg article Mihir Sharma:
Being the fastest-growing large economy in the world is India's destiny, and even the most poorly conceived economic policy imaginable can't stop destiny. At least, that is, if you believe the government's statisticians, who said on Tuesday that India's GDP grew at 7 percent in the very quarter that the government withdrew high-value currency notes from circulation.

Is India becoming another China, with incredible growth momentum and statistics nobody quite believes? One hopes not. But the government should be careful to see the new numbers for what they are — and aren't.

To say the data is startling is an understatement. The IMF had predicted that India would grow at around 6 percent in the half-year after "demonetization," as it's called. Most independent economists forecast GDP growth would come in somewhere between 6 and 7 percent. Those economists naturally assumed that withdrawing 86 percent of the country's currency and reducing access to bank accounts would dampen private consumption.

Yet if one believes the government's numbers, taking away most of India's cash overnight didn't hurt private spending at all. In fact, private consumption rose by 10.1 percent over the quarter. That's the highest growth in spending in over five years, and it came at a time when consumer confidence was falling sharply.
Source: Is Indian Data Turning Chinese?, Bloomberg , Mar 1, 2017
But despite the current doubts over stats published by the state, over the past many years India's GDP growth is an envy of the emerging world. While India's average annual growth rate is around 5.8% in recent years, over the long run India's growth has outpaced the growth rate of other emerging markets.
Click to enlarge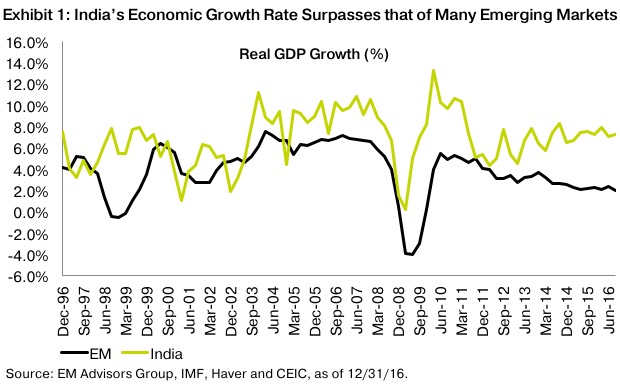 Source: India: A Bright Star Among Emerging Markets, Oppenheimer Funds
Citing positive economic reforms undertaken by the state, Meral Karasulu of Oppenheimer Funds is bullish on Indian equities especially over the long run.