European equities continue to trade at a discount compared to their developed world peers. For many years, when Europe suffered from one crisis after another including the soverign debt crisis, may rounds of Greek debt crisis, etc. investors fled European equities fearing total meltdown of the political and economic order. More recently, last year the usually traditional and conservative British shook the continent and the world with their suprisee vote for Brexit. Fears of crash in the British equity amrket were proven wrong when stocks soared after the decision.
This year Europe is back in focus on investors' minds as another set of elecctions are scheduled to take place in Germany, France, The Netherlands and Italy. With populist surge sweeping the US and UK, investorrs are rightfully worried about the outcome of eletions in these countries. As France and Germany are two of the major economies in Europe, any major shakeup in the political system there will have reverberations across the EU.
Though political risk is an important factor to consider when investing in foreign countries, it should be noted that Western European countries are highly devleoped with strong democratic instiutions and so political stability will prevail despite short-term uncertainity. The past European crisis have shown that fears of collpase of the Euro and the EU are overblown.
According to an article at Alliance Bernstein blog, European stocks valuations are attractive relative to other markets. And political risks need not justify high discounts compared to other developed markets. From the article:
Today, European stock markets offer abundant opportunities. European equities are attractively valued, in our view, at a price/forward earnings ratio of about 15x—an 8% discount to global developed stocks and a 17% discount to US stocks (Display, left). High-beta stocks, which are generally considered riskier, trade at very deep price/book discounts versus low-beta stocks. In other words, many investors are still overpaying for perceived safety, creating plentiful mispricing for stock pickers to exploit.
Source: Does Political Risk Matter for European Stocks?, By Tawhid Ali, Andrew Birse, AB Blog
Many European economic indicators are showing signs of growth. For example,commercial lending is picking up compared to US.
Click to enlarge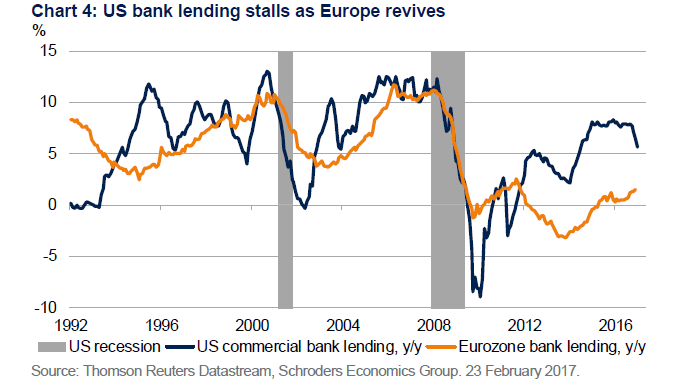 Source: Schroders Economic and Strategy Viewpoint, Schroders, March 2017
So investors with a long-term horizon of five years or more can consider European stocks. Though political risks have to be considered, one need not overweight them to the point of completely avoiding European companies.
Some of the European stocks that investors can consider for long-term investment include: Nestle SA (NSRGY), Reckitt Benckiser Group plc (RBGLY), Henkel AG & Co KGaA (HENKY), Diageo PLC (DEO), Syngenta AG (SYT), Total SA (TOT) and Autoliv Inc (ALV).
Disclosure: Long RBGLY and ALV
Also see: European shares are cheap: time to get greedy?, Money Observer, Feb 27. 2017