Emerging markets have still a long way to go before they catch up with developed markets in terms of GDP per capita. This figure is calculated by taking the overall GDP of a country and dividing it up for each individual in the country.
Despite explosive growth in emerging markets in the past few decades, the GDP per capita in those countries as still low relative to developed markets. For example, Germany's GDP per capita is over $40,000 but China's GDP is still under $10,000. China was and is still considered one of the top fast growing emerging countries. Hence most people in China are still poor financially speaking relative to developed countries.
Click to enlarge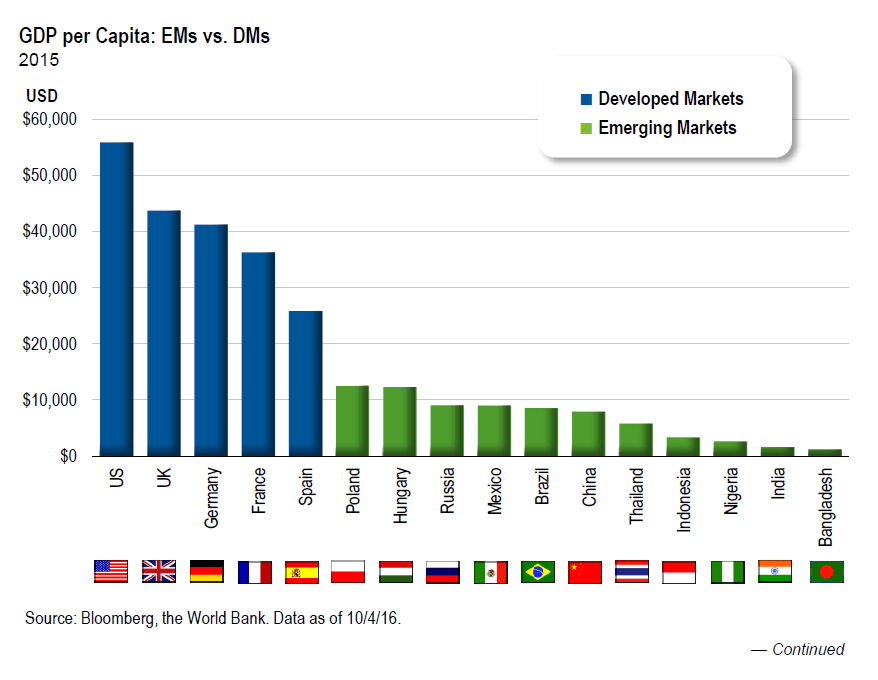 Takeaway for investors:
Because emerging countries have lower GDP per capita investors should not assume that people in those countries would be able to consume goods and services like those residing in developed countries. So for instance, though someone in the US may easily spend $4 or $5 for a cappucino at Starbucks(SBUX), the same may not be true in Brazil, China, India, Indonesia, etc. That does not mean nobody can afford to spend that much on a coffee in those countries. It is just the majority of the population cannot afford to spend that much on a coffee. Hence investors must consider carefully before investing in developed world companies that cater to emerging market consumers.
Source: 2017 GLOBAL INVESTMENT OUTLOOK, Franklin Templeton Investments
Disclosure: No Positions