The Canadian banking industry is highly concentrated with six major banks dominating the market. After surviving the Global Financial Cisis(GFC) relatively unscathed the banks were performing well until the commodity boom ended. The stocks of these banks declined some but did not collapse. With the recent recovery in commodities especially in the price of crude oil the banks have recovered also.
Among the five banks listed on the NYSE, which bank has had the best performance in the past five years?
Click to enlarge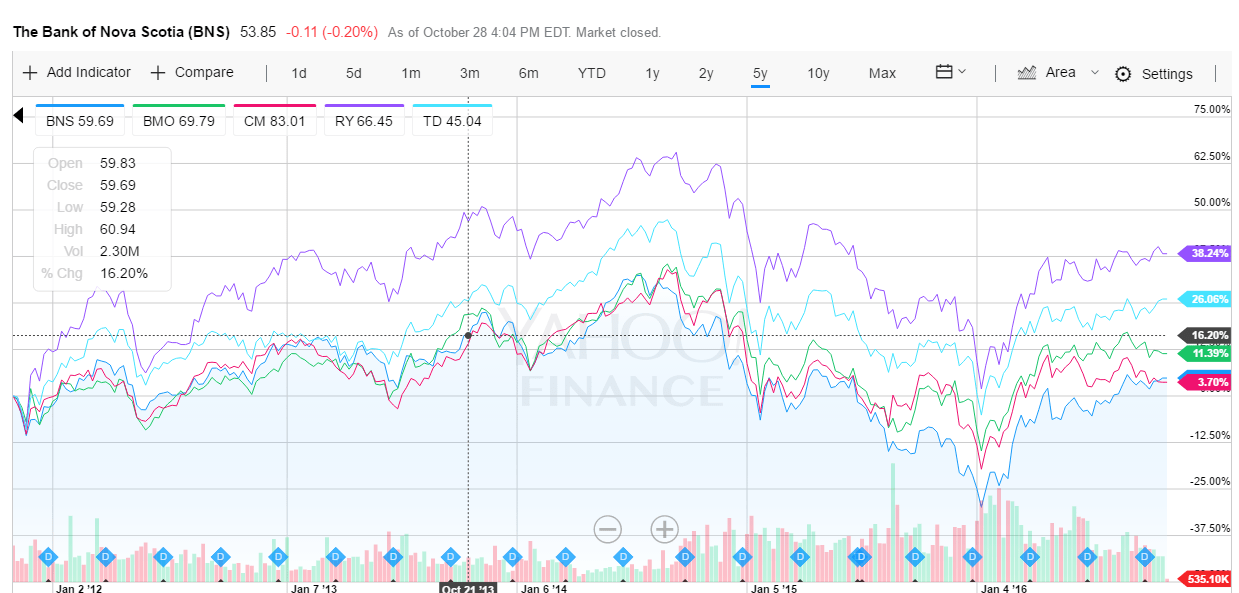 Source: Yahoo Finance
Royal Bank of Canada (RY) is the top performer with a price appreciation (excluding dividends) of over 38% in the last 5 years and the worst performer is Canadian Imperial Bank of Commerce (CM) with a return of about 4%. As Royal Bank is the most profitable bank it is not surprising that the stock has outperformed the other banks.
All the five banks pay excellent dividends with current yields exceeding 3%. Hence to compare long-term performance we must use the total returns which includes dividends reinvested. Based on this measure also Royal Bank beat others. For example, an investment of $10,000 five years ago in each of these banks would have grown to the following figures:
Bank of Montreal (BMO) – $14,165
Bank of Nova Scotia (BNS) – $13,147
Canadian Imperial Bank of Commerce (CM) – $13,343
Royal Bank of Canada (RY) – $16,726
Toronto-Dominion Bank (TD) – $14,773
Note: Data shown are based on S&P calculations and are as of Oct 28, 2016
So the key takeaway is that over long-term the most profitable and consistent dividend payers yield the highest return.
Disclosure: Long all five banks