The UK economy is the fifth largest in the world with a GDP of about $3.0 Trillion. USA, China, Japan and Germany are ahead of the UK in the order mentioned. Globally the British economy is small. It contributes only 11% of the world output as shown in the chart below:
Click to enlarge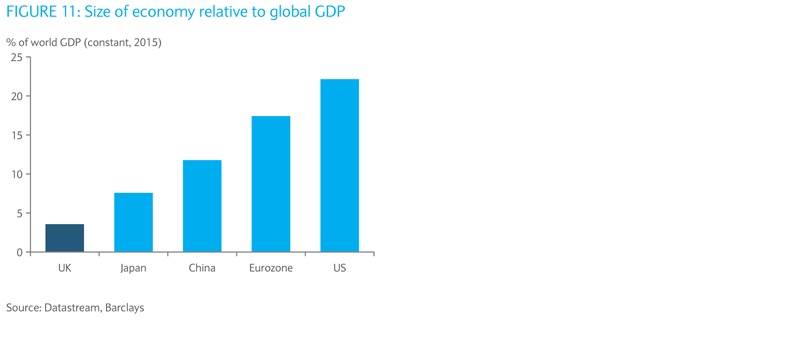 In terms of GDP composition, the real-estate sector forms a significant chunk. This is not surprising since the British are obsessed with property and concepts like "buy-to-let" are a national past-time as almost everyone wants to become a landlord.
In addition, the state is a major employer. Public-sector jobs are highly prized among the public and in some places there are hardly any  private sector industries leaving the state as the only employer. Hence Public Services is the second largest industry in the UK as shown in the chart below: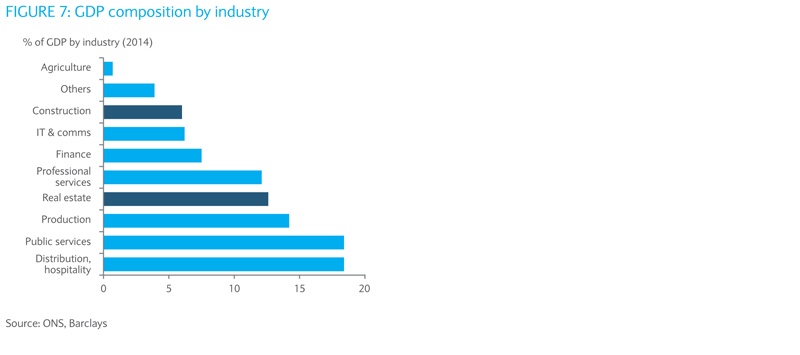 According to Office for National Statistics, 5.3 million were employed in the private sector as of March, 2016. The total private sector employment is estimated to be 26.2 million. So about one-fifth (17%) of the total employed persons  in the UK are working in the public sector. This figure is very high. The UK should create more opportunities in the private sector in order to unlock the full potential of the economy and try to get ahead of other advanced economies such as Japan and Germany.
Instead of focusing on economic growth, the British spend their time  talking daily about how glorious the country was when it was an empire in the 1800s and early 1900s. More recently the main talk of the country is whether the Brexit will be a "hard Brexit" or "soft Brexit"……
Source: Purgatory not hell, Oct 10, 2016, Barclays
Related ETF:
iShares MSCI United Kingdom (EWU)
Disclosure: No positions