The first decade of the 21st century saw the golden period of the BRIC countries. Brazil, Russia, India and China enjoyed tremendous economic growth and accordingly their equity markets soared. With all the hyper regarding these countries it seemed that the future simply belonged to BRICs.
The term "BRICs" was coined by Jim O'Neil of Goldman Sachs in 2001 and quickly marketed as the catch-all term to ride the growth of emerging powers. The original BRICs became BRICS after South Africa was added to the group. However these days the BRICS have hit a brick wall. Following the demise of the term BRICS, others such as CIVETS, N-11, etc. But none of them caught on like the BRICs.
According to a research report by Vanguard, between 2011 and 2015 economic growth of BRICS and other major emerging countries slowed as shown in the graphic below:
Click to enlarge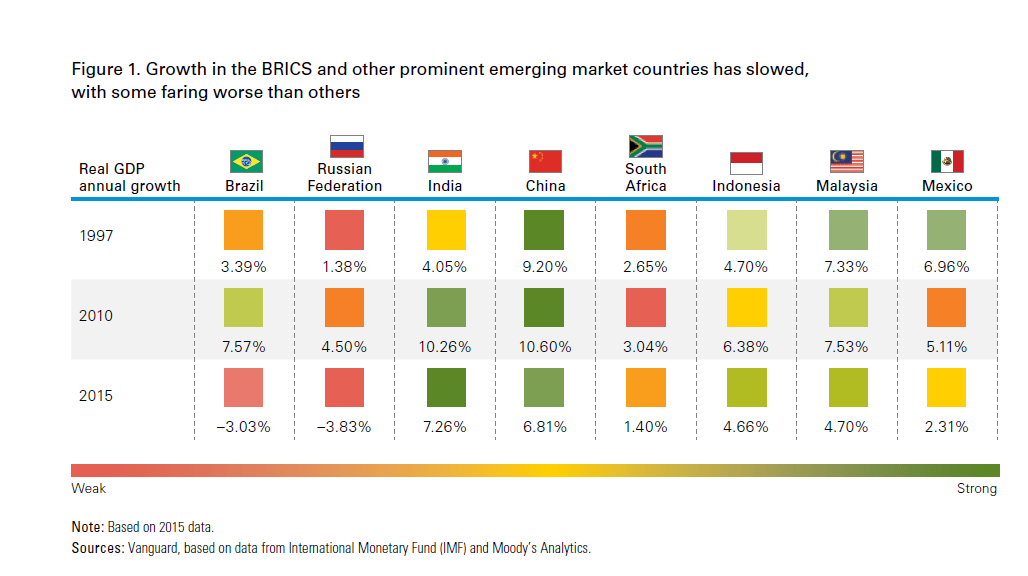 The economic and fiscal fundamentals of BRICS are mixed as well: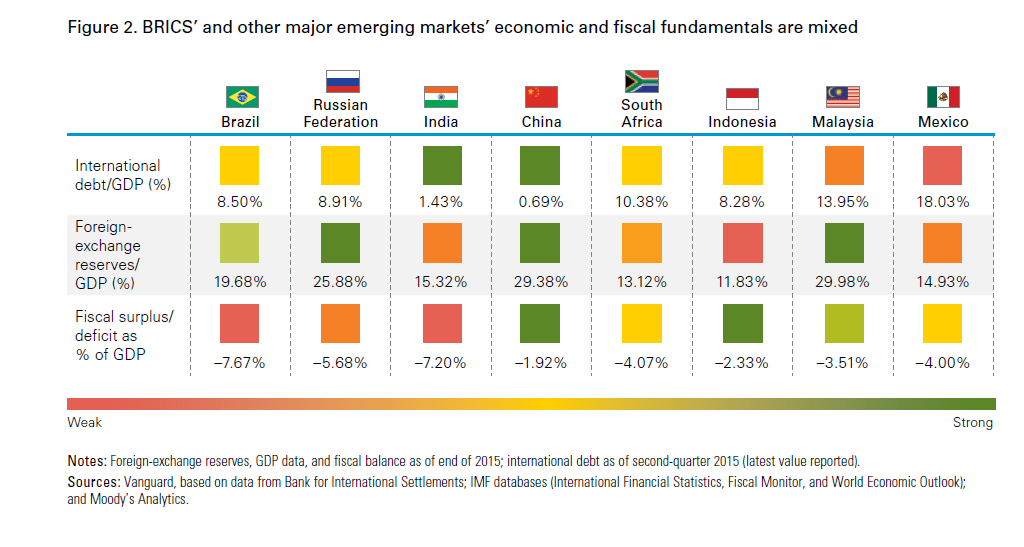 Countries such as Malaysia and Mexico are stronger than BRICS based on the three factors shown above.
The key takeaway for investors is that economic growth in emerging markets can grow exponentially in short time only to go in the other direction much quicker than anyone can realize.
Source: Are emerging markets still built on the BRICS?, Vanguard
Related ETFs:
Market Vectors Russia ETF (RSX)
iShares MSCI Brazil Capped ETF (EWZ)
iShares MSCI Mexico Capped Investable Market ETF (EWW)
iShares FTSE/Xinhua China 25 Index  ETF (FXI)
Disclosure: No Positions