Emerging and Frontier markets are relatively big in terms of factors such as population, land, total number of listed companies, etc. However based on market capitalization of equity markets they account for less than 50% of the global total market capitalization. This is because equities in these markets permanently trade at a discount to equities in the developed world.
a) Emerging markets vs. Rest of the World:
Click to enlarge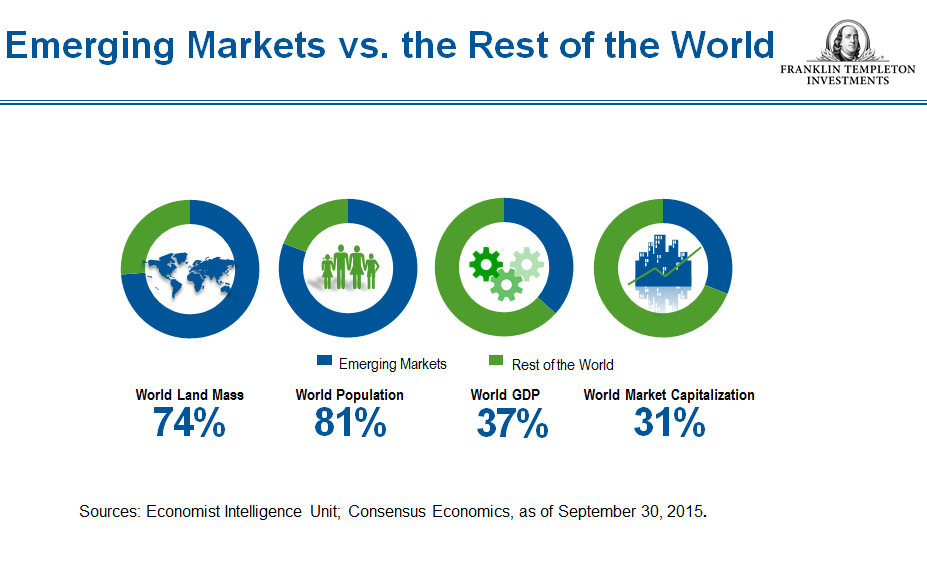 b) Frontier markets vs. Rest of the World: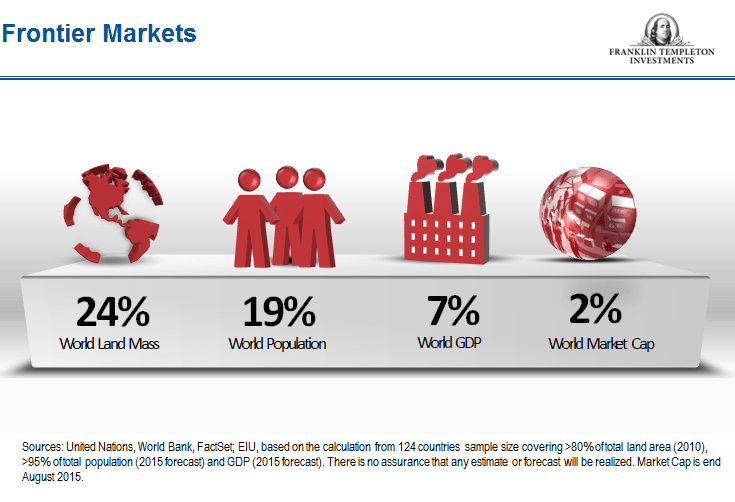 Source: Emerging Markets 2016 Outlook, Franklin Templeton and
Frontier Markets in Focus: 2016 and Beyond, Franklin Templeton
Frontier markets have a long way to go to graduate to emerging markets. Frontier economies include countries like Bangladesh, Vietnam, Iran, Jamaica, Slovakia, etc.
Key takeaway:
For investors in developed world, majority of their portfolio assets should be in developed stocks and only a small amount should be allocated to emerging and frontier stocks. For most investors, frontier markets are best avoided.
Related ETFs:
iShares MSCI Emerging Markets ETF (EEM)
Vanguard MSCI Emerging Markets ETF (VWO)
Market Vectors Africa Index ETF (AFK)
Market Vectors Gulf States ETF (MES)
PowerShares MENA Frontier Countries ETF (PMNA)
iShares MSCI Frontier 100 ETF (FM)
Disclosure: No Positions