Bear markets are painful for equity investors but generally tend to occur every few years or so. Bull markets are always followed by bear markets and vice versa. From the dot-com crash to the recent global financial crisis, bear markets are not an aberration but are part of feature of equity markets. Though investors hate getting mauled by the bear, the good news is that bear market duration are shorter than most people think. So investors that hand on to their holdings during these market conditions perform well in the long run.
According to an article by Mark Hulbert in today's journal, it takes am average of 3.1 years after a bear market starts for stocks to recover fully.
Click to enlarge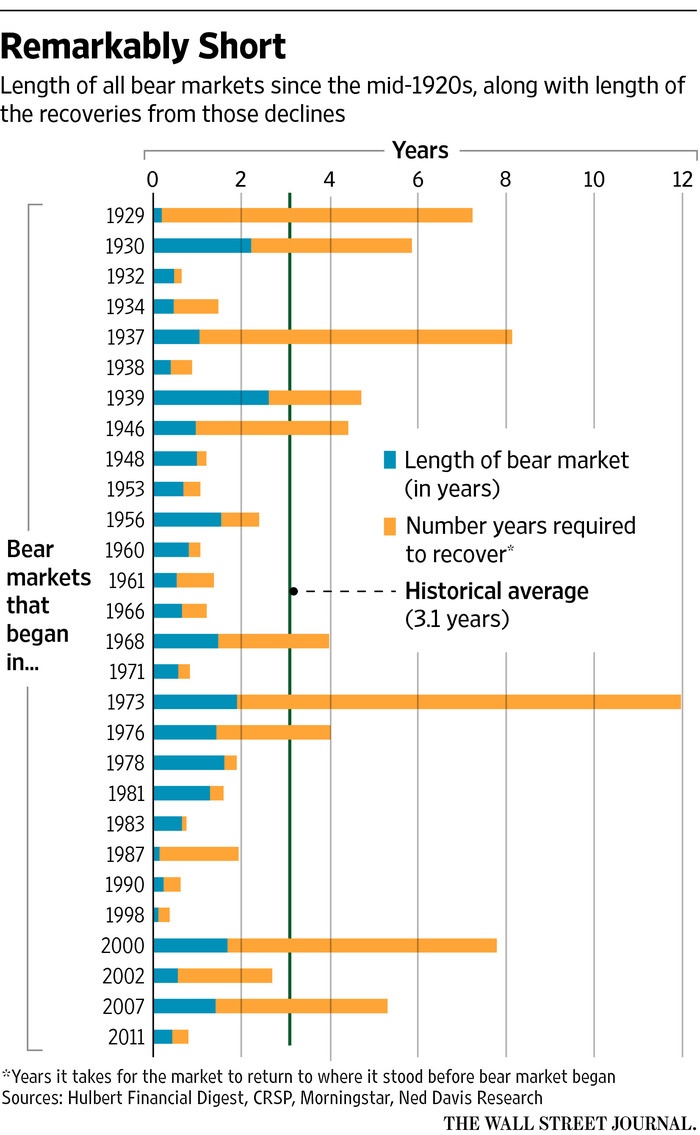 Source: Bear Markets Can Be Shorter Than You Think, WSJ, Mar 8, 2016
A few takeaways:
Investors should not panic and sell their holdings during bear markets.
Long-term investors can grab stocks on the cheap when their blood on the streets.
When bears attack the markets, high quality stocks tend to get thrown out along with losers. So investors with cash to deploy have plenty of pickings to choose from.
Automatic dividend reinvestment becomes a returns amplifier during bear markets as additional shares are added to a portfolio at lower prices.
Extreme bearishness in the markets when everyone throws in the towel and pundits and retail investors alike fee the world is about to end is usually the best time to buy stocks. Early 2009 is one such example.
Update:
Average Length of Time for S&P 500 Recovery:
Click to enlarge

Source: Market Volatility: What If You Don't Have Time to Recover?, Schwab, Mar 9, 2016
Also checkout: Total Returns During US Equity Secular Bull and Bear Markets Since 1877, TFS, June 18, 2017