Ever since the Global Financial Crisis of 2008-09, some investors have avoided bank stocks. However that need not be the case as most banks have cleaned up their balance sheets and are in a much healthier shape now. In fact, on a global level US banks are stronger now than their developed world peers.
The S&P 500 is flat year-to-date. But the KBW Bank index is up by 3.5%. According to an article by Lisa Haakman of PSG Asset Management of South Africa, many of the global developed market banks are now unloved and also undervalued. She noted that US banks are trading at 70 year lows based on valuation relative to the S&P 500 as shown in the chart below:
Click to enlarge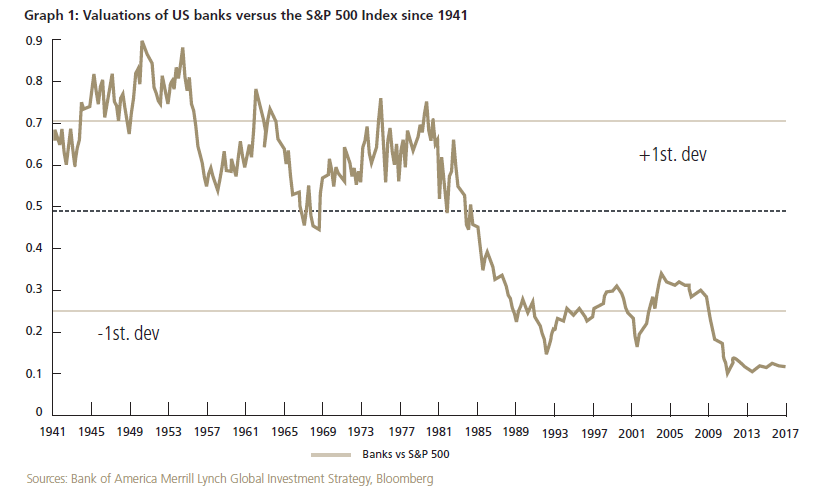 Over the shorter period of 10 years, US and UK banks have significantly under-performed the MSCI Index.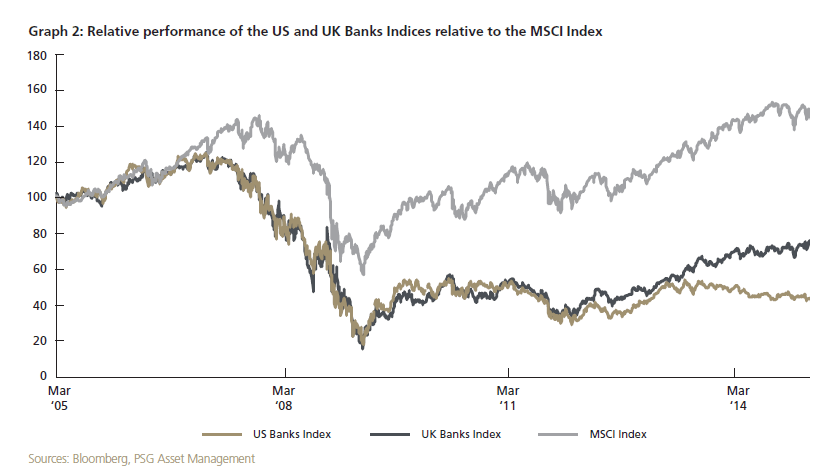 Source: Angles & Perspectives, Q1 2015, PSG Asset Management
As the developed economies continue to grow, banks are bound to benefit.In the US, low unemployment rate is already helping lenders grow their  loan portfolios. All types of credit such as student loans, auto loans, mortgages, and credit card loans are growing as confident consumers increase their spending. In addition, banks have loosened the underwriting standards in order to make credit freely available to consumers. Similarly in Europe, once the current Greek debt drama settles down European financials will rebound sharply.
Ms.Lisa mentioned the following four global banks as attractive: HSBC(HBC), JPMC(JPM), Capital One(COF) and Wells Fargo(WFC). These banks have payout ratios of 65%, 65%, 80% and 35% dividend with estimated 37.5% stock buyback respectively. It should be noted that Capital One is primarily a credit card issuer and not a bank.
Since there are hundreds of publicly-traded banks in the US, investors can also other opportunities outside of the major banks. The following is a list of ten regional and community banks for further research:
1.Company: SunTrust Banks, Inc. (STI)
Current Dividend Yield: 2.19%
2.Company: Citizens Financial Group, Inc. (CFG)
Current Dividend Yield: 1.49%
3.Company:Webster Financial Corp. (WBS)
Current Dividend Yield: 2.32%
4.Company: Bank of the Ozarks, Inc. (OZRK)
Current Dividend Yield: 1.18%
5.Company: Glacier Bancorp, Inc. (GBCI)
Current Dividend Yield: 2.48%
6.Company: U.S. Bancorp (USB)
Current Dividend Yield: 2.35%
7.Company: Cullen/Frost Bankers, Inc. (CFR)
Current Dividend Yield: 2.70%
8.Company: Bank of Hawaii Corporation (BOH)
Current Dividend Yield: 2.71%
9.Company: Commerce Bancshares, Inc. (CBSH)
Current Dividend Yield:  1.93%
10.Company: Mercantile Bank Corp. (MBWM)
Current Dividend Yield: 2.63%
Note: Dividend yields noted above are as of June 30, 2015. Data is known to be accurate from sources used.Please use your own due  diligence before making any investment decisions.
Related ETF:
Disclosure: Long GBCI and USB
Related: