In an earlier post, I noted that coal is the major source of electricity generation in the U.S. In this post, let us take a look at the major coal producers in the country.
Before we get to the list, here are a few points on the US coal industry:
The US holds the world's largest coal reserves. Over one-quarter of the world's total are in the country with the recoverable reserves estimated to be at 233 giga tons at the end of 2013.
The reserves are enough to last for the next 200 years at the current consumption rate.
Just five states—Wyoming, West Virginia, Kentucky, Pennsylvania, and Illinois—account for 70% of total US production, with Wyoming alone accounting for 40%.
Most of the coal used in the U.S. since the start of the 19th century were mined in the Appalachian region. However today most the coal mining has moved to the Western region where production costs are lower.
Appalachia's major coal producing states are West Virginia, Kentucky, and Pennsylvania.
The coal-producing regions in the US are shown in the below map:
Click to enlarge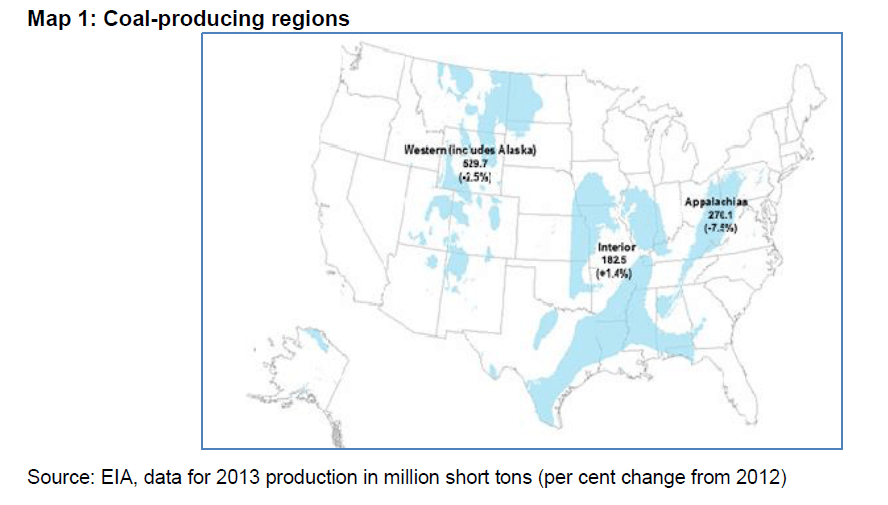 The Top 10 Coal Producers in the US are shown below:
Click to enlarge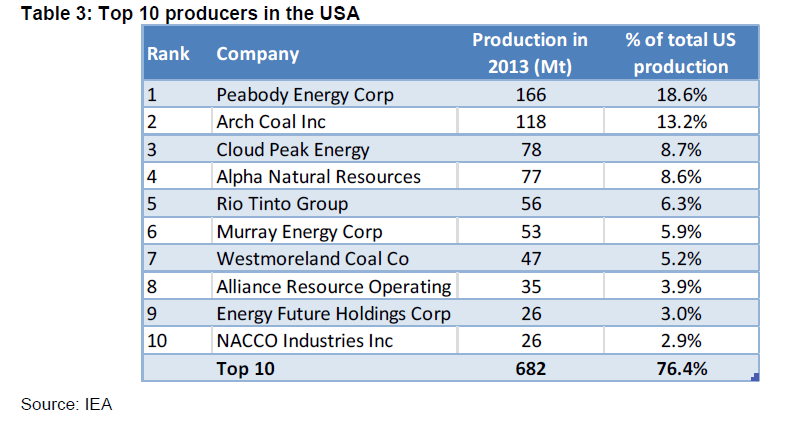 Source: US Coal Exports:The Long Road to Asian Markets, The Oxford Institute for Energy Studies, University of Oxford
From The Oxford Institute for Energy Studies report:
Coal production is highly concentrated in the USA. The top 10 producers account for three-quarters of total production and half comes from just four producers: Peabody Energy, Arch Coal, Cloud Peak Energy, and Alpha Natural Resources. In order to remain profitable in a low-price market, US producers focus on cost reductions. This includes mine idling, the sale of non- core assets and mine closures. Subsequently, the number of US mines has been reduced drastically, from over 1,400 in 2010 to 1,229 in 2012 and 1,061 in 2013.

Recent years have seen 26 US coal companies go into bankruptcy (chiefly in Kentucky and West Virginia), including once major producers such as James River Coal and Patriot Coal Corporation. In line with decreasing production, US coal mining jobs dropped by 9,400 in 2013, representing more than 10 per cent of total coal employment, from 89,800 in 2012 to 80,400 in 2013. Coal company revenues and stock prices plummeted in 2014, forcing mining companies to further cut operations, especially in Appalachia where expenses are higher, and to lay off roughly 6 per cent of their employees during the first half of the year.
Investment options:
Peabody Energy Corporation (BTUUQ) is the largest coal producer in terms of market capitalization. Some of the other firms from the above list include: Arch Coal Inc. (ARCH), Cloud Peak Energy Inc. (CLD) and Alpha Natural Resources, Inc. (ANR).
Also checkout: The Complete List of Coal Stocks on the NYSE
Disclosure: No Positions