Emerging markets are called so because they are still developing relative to the developed world. Emerging countries lack many of the things that are taken for granted every day in developed countries. This includes systems like foundations, political and legal systems, military and police forces, academic systems, healthcare systems, transportation systems, basic necessities like water and sewer,  emergency response systems, etc. Of all these systems, the most important for emerging markets is the infrastructure is the infrastructure sector. Hence these countries are focusing their development efforts on building roads, railways, water and sewer systems, airports, and ports. As developing countries offer plenty of growth for the infrastructure sector, companies operating in this field ample opportunities for emerging market investors to profit from.
Here are two reasons for investing in emerging markets infrastructure stocks or ETFs:
1. Electricity is the one of the most basic necessities of modern life. However in developing countries this is still a luxury. Not all people in those countries have access to electricity. In some countries such as India, millions of people still do not have access to electricity. According to one article, 300 million people or 80 million households mostly in villages in India do not have access to power. Hence India needs to increase its power capacity by many fold from its current levels to serve the full population with electricity.
The following chart shows that electricity production in emerging countries is way below than that of the levels of developed countries:
Click to enlarge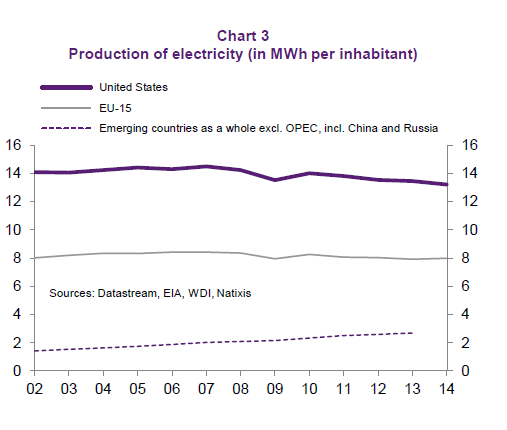 2. In Brazil, water shortage is an issue that became acute recently. Despite having the Amazon river and abundance of forests, cities like Sao Paulo were hit with a water shortage earlier this year due to drought. Brazil also does not have enough roads, railroads and airports. For example, many roads in rural and the Amazon area are not yet paved. This leads to high transportation costs and inefficient movement of goods and people.
The table below shows the comparison of transportation infrastructure in the developed and emerging countries: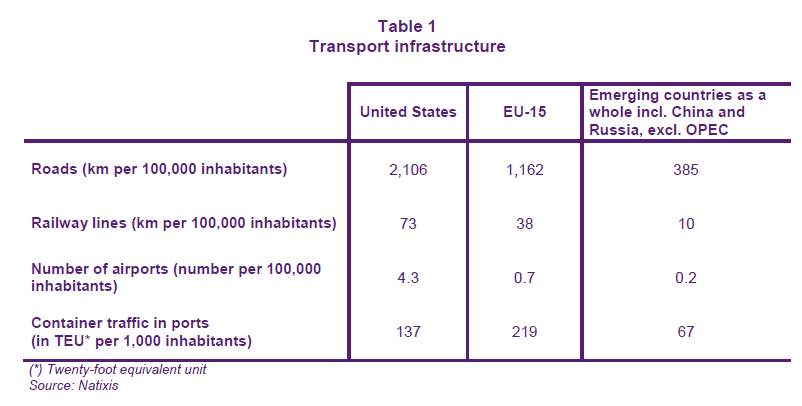 Source: Weak economies in emerging countries: Good or bad news for OECD countries?, Natixis
Developing countries as a whole have less than one-fourth of the roads in the U.S. based on kms per 100,000 inhabitants. Similarly they lag in the number of airports, ports and railway lines.
The following chart shows infrastructure ranking among select developing countries:
Click to enlarge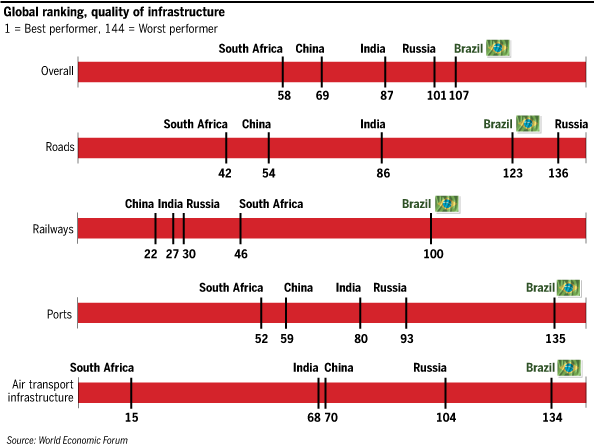 Source: Chart of the week: Brazil's bottlenecks, April 1, 2013, FT beyond brics
One way to profit from the growth in infrastructure in emerging countries is via investing in an ETF that focuses on this sector. The  iShares Emerging Markets Infrastructure  ETF (EMIF) tracks the performance of 30 largest companies in the infrastructure sector in emerging markets. The fund has an asset of about $83.0 million and expense ratio of 0.75%. China and Brazil account for about 60% of the fund's portfolio. Some of the fund holdings include Korea Electric Power (KEP) of South Korea, Grupo Aeroportuario del Sureste, SAB de CV (ASR) of Mexico, oil distributor Ultrapar (UGP) of Brazil, etc.
Other related ETFs that investors can consider are PowerShares Emerging Markets Infrastructure ETF (PXR), INDXX Brazil Infrastructure Index Fund (BRXX), INDXX India Infrastructure Index Fund (INXX) and INDXX China Infrastructure Index Fund (CHXX).
Disclosure: Long UGP