Every year highly-skilled foreign workers compete to enter the U.S. via the H1-B visa program. April 1st week is the H1B visa cap season. Currently this program has a cap of 85,000 per year. In the past few years, the demand for these visas has far exceeded the supply. Hence a lottery has been designed if the number applications filed exceeds the 85K limit in the first week of April. Both companies and workers alike clamor for this highly coveted visas.
The following table shows the top metropolitan regions with high H1-B visa approvals based on 2013 data:
Click to enlarge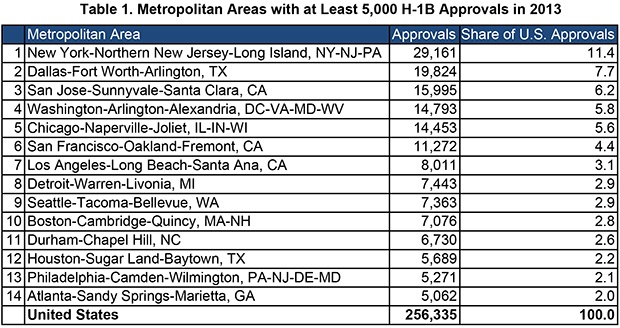 Source: The H-1B visa race continues: Which regions received the most?, The Brookings Institution
Traditionally the largest number of H1B visas have gone to applicants from India, China and Canada in that order. Indians receive the highest percentage of available H1B visas due to their dominance in IT industry. Canada also ranks in the top since the country is a commodity-based economy and high-tech industries are practically insignificant compared to the U.S. So many Canadians looking to work in the IT or high-tech industries move to the South of the border to excel in their careers.
It should also be noted that beginning this May the spouses of H1B visa holders will also be allowed to work legally in the country. Hence the 85K cap limit will actually lead to more than 100K or more jobs going to H1B visa holders and their spouses.