European stocks have been laggards this years relative to the decent performance of U.S. stocks. However moving forward, European stocks have better growth potential compared to their American peers for a variety of reasons two of which are discussed in this post.
1. Currently U.S. stocks are expensive while European equities are relatively cheap based on the P/E ratio. For example, as of Dec 11, the P/E for the US market is 19.5. The P/E ratios of some of the major European markets are lower at 15.8, 9.8, 19.4, 15.5 for Germany, Norway, Spain and the UK respectively. French stocks have a P/E of 19.4.
2.  European equities as measured by the MSCI Europe Index have under-performed MSCI USA in US dollar terms since the sovereign debt crisis.MSCI Europe performed well in sync with MSCI USA from 2009 thru mud-2011. But since then European stocks have under-performed again.Though European equities have had an upward trend since mid-2012 they still have more room to grow in order to catch up with American stocks as shown in the below chart:
Click to enlarge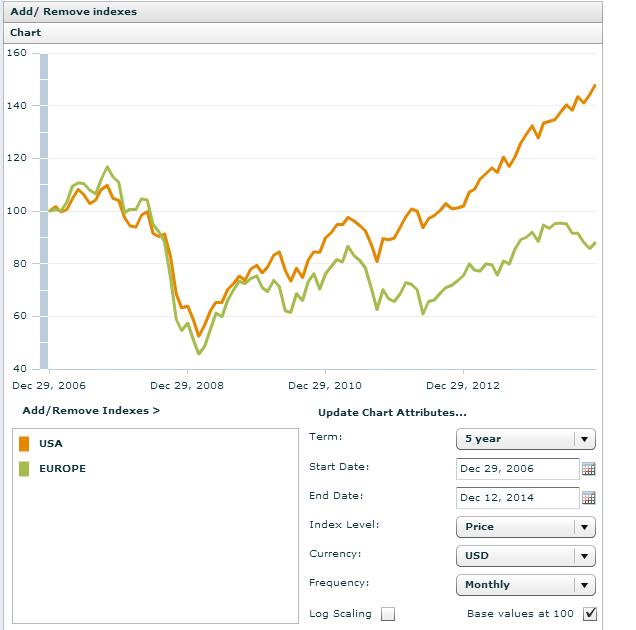 Source: MSCI
Ten stocks from the Euro STOXX 50 Index are listed below with their current dividend yields for further research:
1.Company: Sanofi (SNY)
Current Dividend Yield: 4.23%
Sector: Pharmaceuticals
Country: France
2.Company: Danone SA (DANOY)
Current Dividend Yield: 2.98%
Sector:Food Products
Country: France
3.Company: BASF SE (BASFY)
Current Dividend Yield: 4,38%
Sector: Chemicals
Country: Germany
4.Company: Siemens AG (SIEGY)
Current Dividend Yield: 3.62%
Sector:Industrial Conglomerates
Country: Germany
5.Company: Telefonica SA (TEF)
Current Dividend Yield: 3.58%
Sector: Telecom
Country: Spain
6.Company: Volkswagen AG (VLKAY)
Current Dividend Yield: 2.48%
Sector: Auto Manufacturing
Country: Germany
7.Company: AXA Group (AXAHY)
Current Dividend Yield: 4.94%
Sector: Insurance
Country: France
8.Company: Banco Santander SA (SAN)
Current Dividend Yield: 9.68%
Sector: Banking
Country: Spain
9.Company: Eni SpA (E)
Current Dividend : 8.53%
Sector:Oil, Gas & Consumable Fuels
Country: Italy
10.Company:Air Liquide (AIQUY)
Current Dividend Yield: 2.65%
Sector: Chemicals
Country: France
Note: Dividend yields noted above are as of Dec 12, 2014. Data is known to be accurate from sources used.Please use your own due diligence before making any investment decisions.
Disclosure:  Long AXAHY and SAN