Crude oil (Brent) futures rose gain on Friday at NYMEX and closed at $106.92  for May delivery. Gasoline prices have also followed the upward march this year and currently the average U.S. price stands at $3.51 according to Gas Buddy site.Due to geopolitical risks and other factors oil prices continue to go higher and may stay in the $100+ range this year.
What if oil prices were to fall? Which countries are likely to benefit from lower oil prices?
The following chart shows the winners and losers from lower prices:
Click to enlarge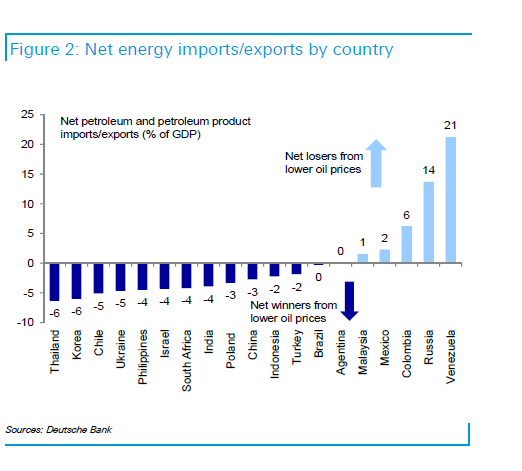 Source: Commodity Themes In 2014, Deutsche Bank
According to Deutsche Bank, lower crude oil prices would hurt the big petroleum exporters while big importers would gain.The big oil exporters such as Venezuela, Russia, Colombia, Mexico and Malaysia will the losers. Malaysia became a net oil exporter due to the discovery of oil fields offshore. Colombia's Ecopetrol(EC) has had an explosive grown in the past few years as it pumps out more barrel per day.
Lower oil prices would help economic growth especially the major oil importing countries like India, China, Thailand, etc. Deutsche Bank estimated that a $10 drop in oil prices would increase economic growth in Europe by 0.5 percent and in Asia by 0.8 percentage points.
Disclosure; No Positions
Updates:
Falling oil prices: Who are the winners and losers?, Dec 16, 2014, BBC