Commonwealth Bank, one of Australia's four major banks announced better-than expected earnings for the half-year to December 31 last month. As a result the bank may increase dividend payments this year to A$3.93 per share according to a news report. Trading updates from National Australia Bank Limited and Australia & New Zealand Banking Group Limited have signaled that dividends could increase by 10% this year.
However it should be noted that economic issues such as high unemployment, prolonged bear market in commodities, collapse of the housing market, etc. could impact Australian banks. From the news report: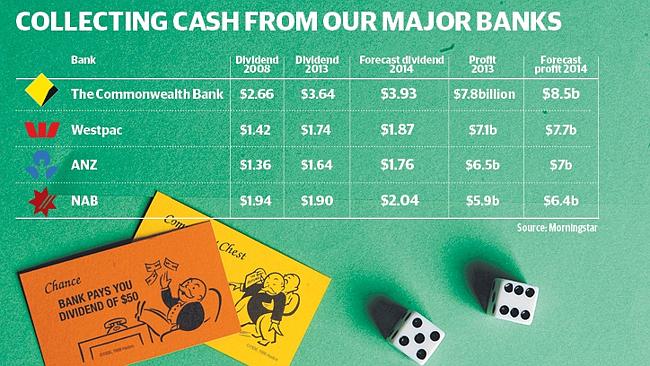 Rivkin Securities director of local investments Shannon Rivkin says the recent results suggest the sharemarket has "underestimated the sweet spot the big banks are in at the moment".

He says the better-than-expected bad debt environment suggest there is the potential for more dividend increases in the coming years.

"Unless we see a big fall in the housing market, which I don't suspect, I think the banks will likely adopt a progressive dividend policy going forward, and any cuts to the dividends are unlikely."

Rivkin says the dividends offer a fantastic yield, plus the potential for capital growth, for self-managed super fund investors, particularly those who have retired because the dividends also come with tasty tax benefits.
Source: Big banks' dividends on a roll, Feb 23, 2014, News Corp Australia
The 5-year return of three of the banks are listed below:
Click to enlarge
Note: Commonwealth Bank is excluded from the above chart since  five year data does not exist.
Source: Yahoo Finance:
All the four banks currently pay dividends of over 5%. Investors looking to add Australian banks can consider adding them in phases.
The current dividend yields of the banks are listed below with their tickers on the US markets:
1.Company: Australia & New Zealand Banking Group Limited (ANZBY)
Current Dividend Yield: 5.15%
2.Company: Commonwealth Bank of Australia (CMWAY)
Current Dividend Yield: 5.22%
3.Company: National Australia Bank Limited (NABZY)
Current Dividend Yield: 5.55%
NABZY had a 2:1 split in January, 2014.
4.Company: Westpac Banking Corp (WBK)
Current Dividend Yield: 5.46%
Note: Dividend yields noted above are as of Mar 14, 2014. Data is known to be accurate from sources used.Please use  your own due diligence before making any investment decisions.
Disclosure: No Positions