The S&P 500 index is down 0.40% year-to-date in price terms. Brazil's Bovespa and Mexico's IPC Index are down 12.7% and 11.2% YTD respectively.
Commodity-based Brazilian economy is suffering from slowdown in China. Chinese demand for many types of commodities such as iron, copper, etc. have fallen drastically in recent months leading to depressed prices of those commodities. Unlike Brazil, the Mexican economy is not driven by commodities though the country is one of the major producers of crude oil. The country's economy is highly dependent on the U.S. economy with most of the exports going to the U.S. Mexico is also one of the top trade partners of the U.S. Hence the fortune of Mexican economy is closed tied to the U.S. rather than China or other countries. Though Mexican stocks are off similar to Brazilian stocks so far this year, the 5-year return shows that Mexican stocks have held up pretty well compared to Brazilian stocks.
The chart below shows the performance of Brazil, Mexico against the S&P 500 via ETFs:
Click to enlarge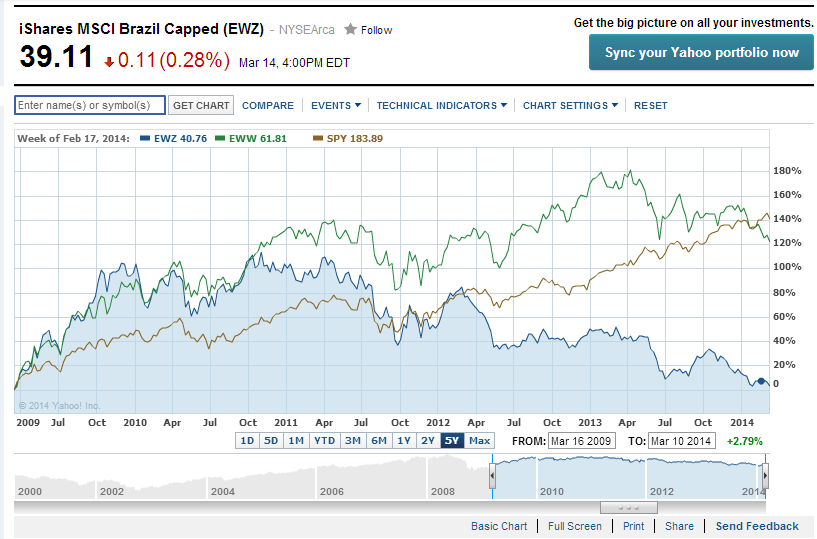 Source: Yahoo Finance
The iShares MSCI Brazil Capped ETF (EWZ)  is mostly flat with a return of 2.79% in the past 5 years whereas the Shares MSCI Mexico Capped ETF (EWW) is up over 121%. The Mexican ETF has followed the performance of the S&P 500 ETF SPDR S&P 500 (SPY) which is up by over 140% during the same period.
From an investment perspective, Mexican stocks offer better growth potential now than Brazilian stocks.
Disclosure: No Positions