National Australia Bank Limited, one of Australia's largest banks has announced a stock split on its ADR. From the announcement by the depository bank:
Deutsche Bank Trust Company Americas ("DBTCA"), as Depositary, will change the ratio on National Australia Bank Limited American Depositary Receipt ("ADR") program. The ratio will change from 1 ADS representing 1 ordinary share to the new ratio of 2 ADSs representing 1 ordinary share, effective January 21, 2014.

As a result of the ratio change, ADS holders of National Australia Bank Limited will receive a 100% stock distribution (or 1 additional ADS for every ADS held) as of the ADR record date.

New Ratio: 2 ADS: 1 Ordinary Share
ADR Record Date: January 17, 2014
ADR Payable Date: January 21, 2014
Source:  Deutsche Bank Trust Company Americas
This is the second split in recent years. In April 2008, the ADR split in the ratio of 1:5.
The chart below shows the performance of NABZY since 2000:
Click to enlarge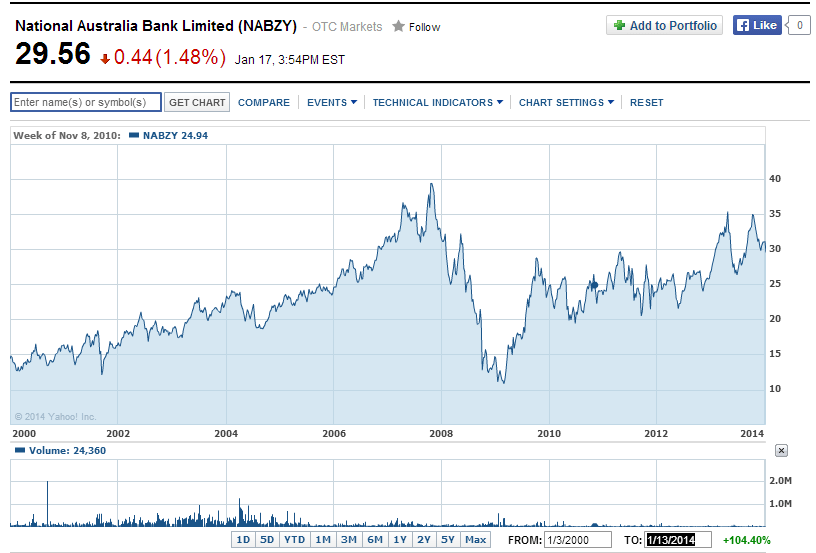 Source: Yahoo Finance
In 5 years the ADR has returned 165% in price appreciation alone.
Currently the stock has a dividend yield of 5.80%.
Disclosure: No Positions