British equities are lagging in performance over their developed world peers so far this year. The FTSE 100 is up only 9.4% while the S&P 500, Germany's DAX and France's CAC-40 are up by 18.5%, 13.3% and 14.4% respectively.The following chart shows the year-to-date performance of FTSE 100 (in blue) against these three major indices:
Click to enlarge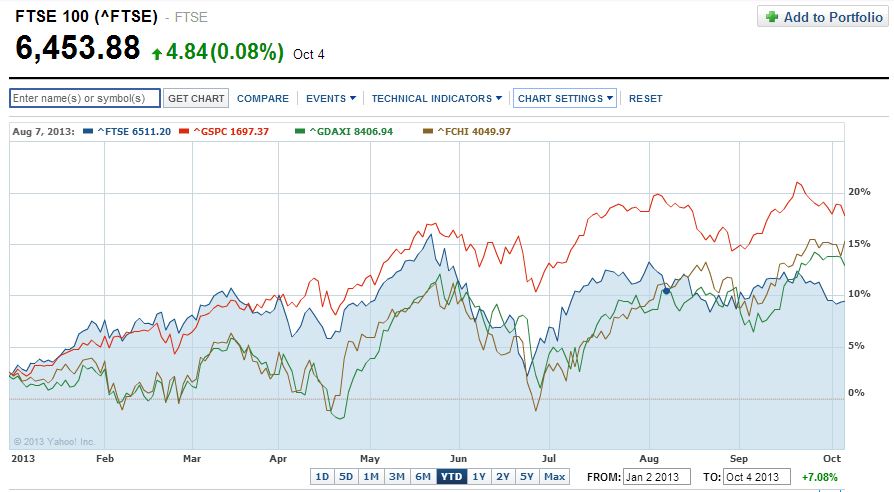 Source: Yahoo Finance
Up until mid-August the FTSE tracked or performed better than DAX and the CAC-40 indices. However when emerging markets started to fall due to the sudden depreciation of their currencies against the dollar and other economic issues, the FTSE followed. This is because unlike the DAX and CAC-40, the FTSE 100  is composed of companies that have high exposure to emerging countries. In fact, some major companies in the index generate over half of their annual revenues from emerging countries. So as emerging markets started to unravel the FTSE 100 was more impacted than the DAX and CAC-40.
The top five constituents of the FTSE 100 are:
1.HSBC Holdings  – Banking
2. Vodafone Group  – Mobile Telecom
3. BP – Oil & Gas Production
4. GlaxoSmithKline  – Pharmaceuticals & Biotechnology
5.Royal Dutch Shell A  –  Oil & Gas Production
All the above five firms are global multinationals with a strong presence in developing countries. For example, Vodafone  was able to offset growth decline in European countries with strong growth in developing countries such as India, Turkey and Ghana.
As emerging markets have stabilized in recent weeks the sell-off in British stocks looks overdone and they are poised for a rebound. Hence investors looking to add some exposure to emerging markets can consider adding some of the major British companies at current levels. An added advantage for U.S. investors in British stocks is that the withholding tax rates on dividends paid out by U.K. corporation is 0%. However dividends paid by U.K. REITs are taxed at 20%.
Ten British stocks trading on the U.S. markets are listed below to consider with their current dividend yields:
1.Company: Vodafone Group PLC (VOD)
Current Dividend Yield:4.43%
2.Company: HSBC Holdings PLC (HBC)
Current Dividend Yield: 4.29%
3.Company: British American Tobacco PLC(BTI)
Current Dividend Yield: 3.97%
4.Company: GlaxoSmithKline (GSK)
Current Dividend Yield: 4.70%
5.Company: BP PLC (BP)
Current Dividend Yield: 5.05%
6.Company: AstraZeneca PLC (AZN)
Current Dividend Yield: 5.41%
7.Company: Diageo PLC (DEO)
Current Dividend Yield: 2.27%
8.Company: Aviva PLC (AV)
Current Dividend Yield: 3.35%
9.Company: Barclays PLC (BCS)
Current Dividend Yield: 2.30%
10.Company: Bhp Billiton PLC (BBL)
Current Dividend Yield: 3.89%
Note: Dividend yields noted are as of Oct 4, 2013. Data is known to be accurate from sources used.Please use your own due diligence before making any investment decisions.
Disclosure: No Positions