Global investors generally tend to invest in emerging market equities primarily for their price appreciation potential. The reasoning behind this theory is that the economies of these markets are still developing and they have plenty of room to grow in order to catch up with their developed world peers. Hence stocks should soar higher and higher every year. Instead of purely focused on price appreciation investors in emerging stocks may also want to consider them for their dividends since dividends form a significant portion of the long-term total returns for any market.
The concept of paying dividends to shareholders is becoming increasingly popular with companies in the emerging world also. For example, many Asian emerging companies  pay out a good portion of their earnings in dividends each year and have maintained the payout policy for years. In some countries, the government continues to be a major shareholder in the now publicly-listed but formerly fully state-owned companies. As a  result the management of these firms pay high dividends in order to keep the state happy.
Similar to developing Asia, many Latin American companies are also adopting the dividend culture. In countries such as Brazil, companies are required by law to pay dividends to their shareholders if they earn a profit. According to the Brazilian corporate law, companies are required to pay out a minimum of 25% of their adjusted net income in dividends at least on a yearly basis. This dividend is called as the mandatory dividend. Brazilian companies usually pay out more than the mandatory dividends. It should be noted however that dividends need not be paid if a corporation does have profits in a given year.
Brazilian stocks have been on a roller-coaster ride in the past few few years. The 5-year return for the Bovespa index is shown below. The index is down just over 14.0% year-to-date.
Click to enlarge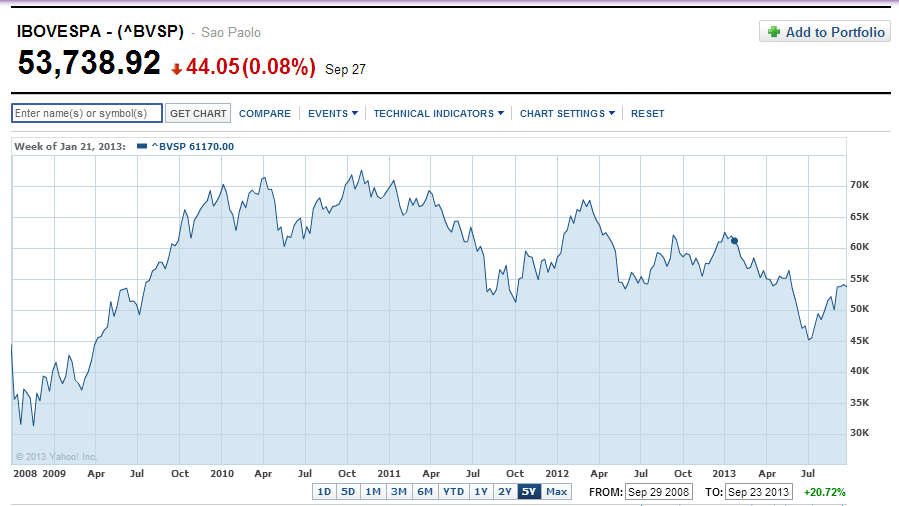 Source: Yahoo Finance
Despite the volatility in the Brazilian equity market, investors looking to gain exposure to Brazil can consider some of the dividend-paying stocks for long-term investment. Ten stocks are listed below for further research:
1.Company: Ultrapar Participacoes SA (UGP)
Current Dividend Yield: 2.49%
Sector:Oil, Gas & Consumable Fuels
2.Company:Banco Santander Brasil SA (BSBR)
Current Dividend Yield: 3.74%
Sector:Banking
3.Company: Itau Unibanco Holding SA(ITUB)
Current Dividend Yield: 3.07%
Sector: Banking
4.Company: Companhia de Bebidas das Americas Ambev (ABV)
Current Dividend Yield: 3.60%
Sector:Beverages
5.Company:Braskem SA (BAK)
Current Dividend Yield: 3.68%
Sector: Chemicals
6.Company:CPFL Energia S.A. (CPL)
Current Dividend Yield: 4.56%
Sector:Electric Utilities
7.Company: Embraer SA (ERJ)
Current Dividend Yield: 1.05%
Sector:Aerospace & Defense
8.Company:Companhia Paranaense de Energia (ELPVY)
Current Dividend Yield: 8.17%
Sector:Electric Utilities
9.Company:Petroleo Brasileiro Petrobras SA (PBR)
Current Dividend Yield: 1.23%
Sector: Oil, Gas & Consumable Fuels
10.Company: Companhia Brasileira de Distribuicao (CBD)
Current Dividend Yield: 0.84%
Sector:Food & Staples Retailing
Note: Dividend yields noted above are as of Sep 27, 2013. Data is known to be accurate from sources used.Please use your own due diligence before making any investment decisions.
Disclosure: Long ITUB, PBR