In January 2012, I wrote a short article on MTR Corporation, the leading railway operator in Hong Kong. Compared to the subway systems in places like London, New York and Washington DC, MTR seems to the best. The Tube in London is clean but expensive. The DC subway system is clean but stupidly complex with its weird fare system. Many would agree that the morons that came up with the fare system in DC are third-rate crooks just like the politicians that infest that great city above. It is a disgrace that the nation's capital metro is so pathetic. The New York subway is very cheap to get around with good connections but it is dirty and many stations look like dark dungeons. The system badly needs a complete makeover top to bottom.
The Wall Street Journal recent published an interesting article on the Hong  Kong metro train operator. From the article:
MTR stands apart from its rivals for other reasons. The company is publicly traded and consistently profitable without any direct government support. Those earnings come from another unique characteristic: MTR profits from developing the land above and around its stations, allowing it to benefit from Hong Kong's booming real-estate market. That land comes from the Hong Kong government, amounting to an indirect subsidy.

The rail operator is 77%-controlled by the government, meaning it is ultimately owned by Beijing, though Hong Kong retains its own government and legal system. MTR made an underlying profit of 4.25 billion Hong Kong dollars (US$548 million) in the first half of 2013, up 5.1% from a year earlier. Just 10% of the profit came from overseas.

MTR's biggest selling point is its own operations. It has consistently delivered a 99.9% on-time rate while carrying 5.1 million people on an average weekday, ranking it as the world's 10th-busiest subway system. Despite a relatively modest scale, with tracks spanning about 120 miles, it carries roughly the same number of people as systems in London and New York, which have more than 200 miles of track.

The trains are clean and appear as often as every two minutes at major stations during rush hour. In the past year, MTR added 1,200 train trips a week to ease crowding, a chronic complaint.
Source:  Hong Kong's Subway System Wants to Run the World, The Wall Street Journal, Sept 18, 2013
MTR trades on the OTC market as an unsponsored ADR with the ticker MTRJY. On Friday the stock closed at $39.51.
Click to enlarge
Hong Kong Metro Map (Source: MTR Site)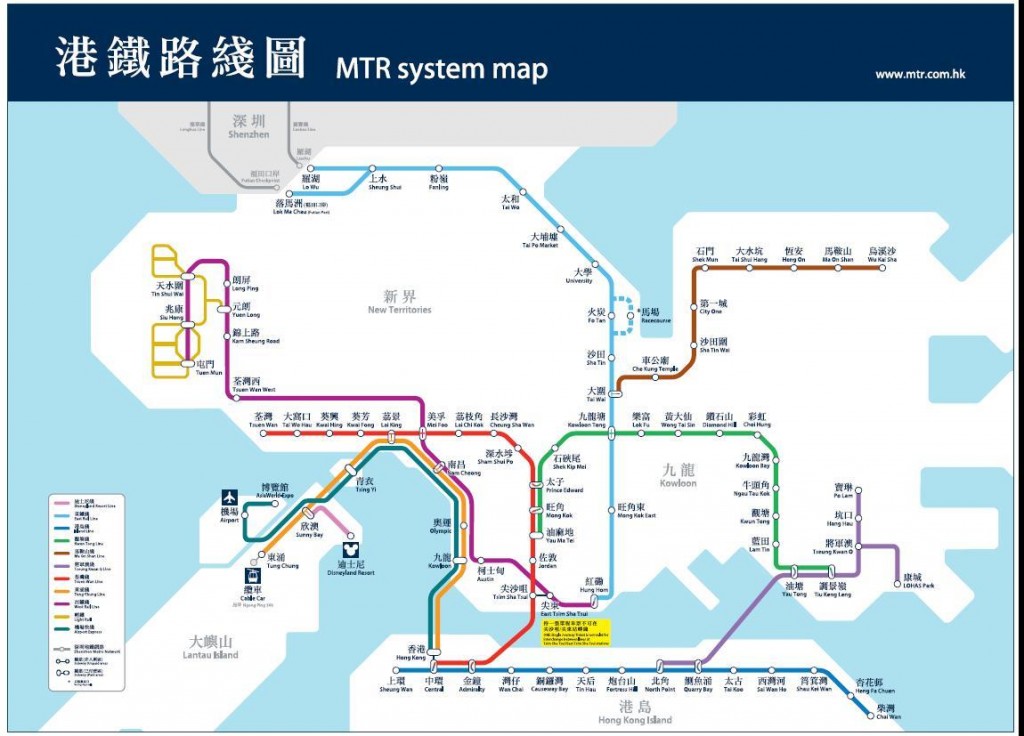 You can download the pdf version of the above map here.
Disclosure: No Positions