The U.S. equity market indices reached another record high yesterday.The S&P 500 closed at 1,569.19 crossing the high reached in October 2007 before the financial crisis. Similarly the Dow Jones Industrial Average closed at another record high of 14,578.54.
Click to enlarge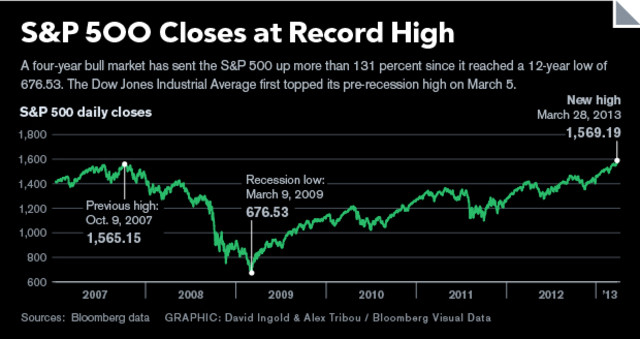 Source:  S&P 500 Climbs to Record Amid GDP Growth, Europe Optimism, Bloomberg
Despite the ongoing crisis in Cyprus and a few other European countries and sluggish growth in the domestic economy, U.S. stocks continue to soar higher.
Many investors are wondering if the disconnect between the economy and the equity market continue forever. More importantly, investors who missed the bull market since the lows of March 2009 are trying to determine if this is the right time to jump back into the market given that the S&P 500 has reached another record.
Here are one sobering fact about the U.S. economy:
Though the unemployment rate has dropped to 7.70% as of February, wages have not increased. In fact, wages have decreased substantially across the board in most industries. In fact, even people having a job are depending on food stamps to survive and feed their families. This is shocking in any way one can think of.  An article in The Wall Street Journal noted the following:
In 1975, 8% of all Americans were on SNAP. That percentage is 15% today. Enrollment soared to 47.8 million participants in recent months, an increase of 70%. The Congressional Budget Office predicts unemployment will drop to 4.6% by 2017, but that SNAP enrollment will only drop to 43.3 million people.
In an article published last week,  Seth J. Masters is Chief Investment Officer of Bernstein Global Wealth Management, a unit of AllianceBernstein states that U.S. stocks are priced attractively.
From "US Stocks: Third Time's the Charm":
At 1550, the S&P 500 has regained the peak it reached in March of 2000 (when the tech bubble burst) and again in October of 2007 (before the credit crunch hit). But we think the third time's the charm: We think the stock market still has room to rise because equities are now more attractively valued and of higher quality than they were at previous peaks.

The price is right. The S&P 500 now trades at about 13.7 times consensus estimates of this year's earnings—below its price multiple in October 2007 and much lower than in March 2000, as the display below shows. So stocks are priced attractively, in our view.
Click to enlarge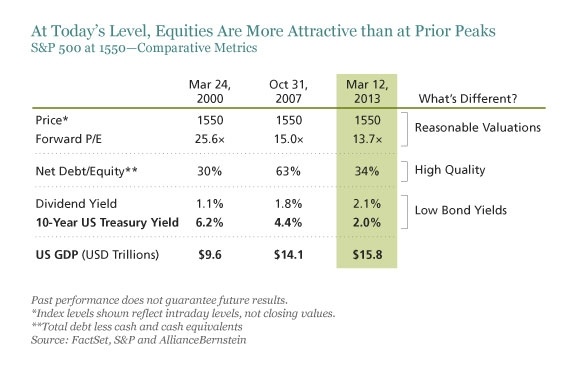 Some of the other factors noted by Mr.Masters in favor U.S. equities are: S&P 500 companies have higher-quality balance sheets, expectations are modest, U.S. economic growth to increase slightly this year,  firms are returning more to shareholders in the form of dividends and increasing share buybacks.
For investors willing to bet on U.S. stocks, ten S&P components are listed below with their current dividend yields:
1.Company: Ecolab Inc (ECL)
Current Dividend Yield: 1.15%
Sector: Chemicals
2.Company: Emerson Electric Co (EMR)
Current Dividend Yield: 2.94%
Sector: Electrical Equipment
3.Company: Halliburton Co (HAL)
Current Dividend Yield: 1.24%
Sector: Energy Equipment & Services
4.Company: First Horizon National Corp (FHN)
Current Dividend Yield: 1.87%
Sector: Banking
5.Company: Kimberly-Clark (KMB)
Current Dividend Yield: 3.31%
Sector: Household Products
6.Company: Marathon Oil Corp (MRO)
Current Dividend Yield: 2.02%
Sector: Oil, Gas & Consumable Fuels
7.Company: Visa Inc (V)
Current Dividend Yield: 0.78%
Sector: Electronic payments processing
8.Company: Franklin Resources (BEN)
Current Dividend Yield: 0.77%
Sector: Diversified Financial Services
9.Company: LyondellBasell Industries NV (LYB)
Current Dividend Yield: 2.35%
Sector: Chemicals
10.Company: Praxair Inc.(PX)
Current Dividend Yield: 2.15%
Sector: Industrial Gases
Note: Dividend yields noted are as of Mar 28, 2013
Related ETFs:
Disclosure: No Positions