Truck markers may see an upswing in sales as the economic recovery continues to strengthen. Three of the truck makers are listed below with their current dividend yields and market caps:
1.Company: Navistar International Corp (NAV)
Current Dividend Yield: No dividend Paid
Market Cap: $2.6 B
2.Company: Oshkosh Corp (OSK)
Current Dividend Yield: No dividend Paid
Market Cap:$3.5 B
3.Company: PACCAR Inc (PCAR)
Current Dividend Yield: 1.65%
Market Cap:$17.5 B
Note: Dividend yields noted are as of Mar 7, 2013
Disclosure: No Positions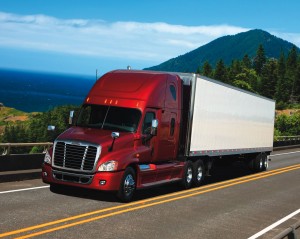 Of these companies, PACCAR is the largest in terms of market cap and it pays a dividend too with a yield of about 1.65%.  Both Oshkosh and Navistar are mid-cap stocks and pay no dividends.
Oshkosh is a major military equipment maker specializing in trucks and other vehicles. Hence the company's sales are dependent more on Pentagon orders than the other two competitors. Oshkosh had sales of over $8.0 billion last year and the profit margin was just about 3%.
PACCAR sells its vehicles and parts in North America, Europe and Australia. In the U.S. its trucks are sold under the Kenworth and Peterbilt brands.Total revenues exceed $17.0 billion in 2012 and the profit margin was about 6.5%.
Similar to Oshkosh, Navistar also makes both commercial and military vehicles. Total revenue in 2012 was about #13.0 billion but the company had a loss.
The following chart shows the multi-year return of these companies:
Click to enlarge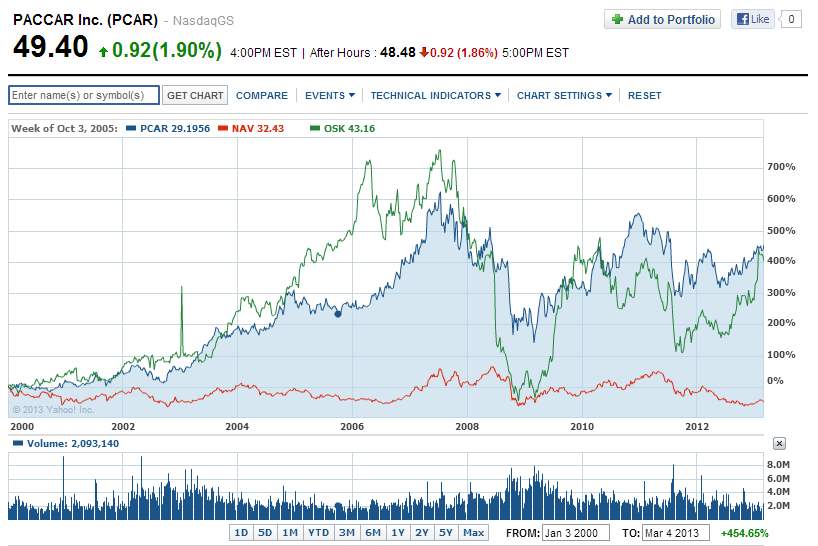 Source: Yahoo Finance
PACCAR is the best performer since 2000. Navistar has been the worst performer. That sharp spike in Osh Kosh's share price is due to a bid from activist investor Carl Icahn to buy the company. Mr.Ichan's later abandoned his efforts to control Osh Kosh as the company rejected his bid as a "low-ball" price.
Hat Tip:  Navistar Ready to Put Pedal to the Metal (WSJ)