The Australian economy remained strong during the global financial crisis relative to other developed countries. The IMF has projected Australia's GDP to grow 3% this year. The country's economy is closely tied with China's since Australia is one of the largest commodity exporters to China. As fears of a hard-landing in China turned out to be incorrect for the most part, Australia's economy is steady and growing although at  a slower pace than before. The unemployment rate remained steady in January at a seasonally- adjusted rate of just 5.4%.
According to an article by  Roy Maslen, Chief Investment Officer—Australian Value Equities, AllianceBernstein, Australian cyclical stocks offer once-in-a-generation value opportunities at current levels.
From  the article:
In Australia, the crowded equities trade since 2010, driven by fear of the global economic outlook and the sovereign debt crisis in Europe, has been in defensive stocks such as consumer staples, healthcare and property. As investors drove up valuations of these stocks, a lot of Australian cyclical companies—many of which have very strong balance sheets and cash flows—have become unusually cheap. Consequently, the value opportunity in Australian equities, expressed as the "value spread" or discount of the cheapest 20% of stocks to the most expensive 20% of stocks, is close to record highs (Display).
Click to enlarge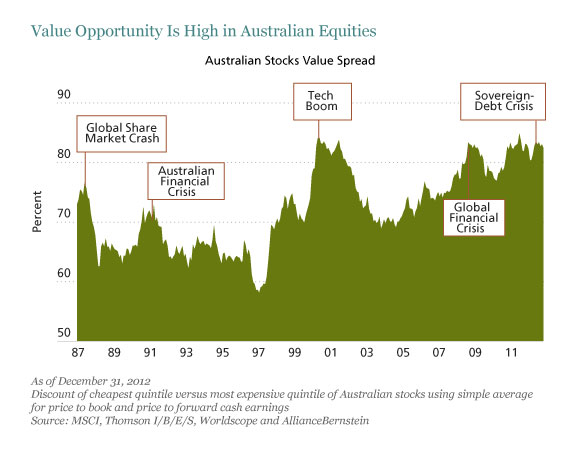 Source: Finding Value in Australian Equities, AllianceBernstein Blog on Investing
Five Australian stocks from different sectors trading on the US markets are listed below with their current dividend yields:
1.Company: Westpac Banking Corp (WBK)
Current Dividend Yield: 5.44%
Sector: Banking
2.Company: National Australia Bank Ltd (NABZY)
Current Dividend Yield: 6.00%
Sector: Banking
3.Company: Australia and New Zealand Banking Group Ltd (ANZBY)
Current Dividend Yield: 5.15%
Sector: Banking
4.Company: BHP Billiton Ltd (BHP)
Current Dividend Yield: 3.02%
Sector: Metals & Mining
5.Company: Telstra Corp Ltd (TLSYY)
Current Dividend Yield: 6.12%
Sector: Telecom
Since most of the Australian firms are not listed on the organized US exchanges, the best way to gain exposure to the country's cyclical sector is investing via the iShares MSCI Australia ETF (EWA). This ETF has 73% of the portfolio assets in cyclicals. With about $3.0 billion assets the fund's dividend yield was about 5.18% at the end of January.
Note: Dividend yields noted are as of Feb 28, 2013
Disclosure: No Positions
Related:
Is Australia an Insulated Safe-Haven Investment? (Aug 30, 2012),  Charles Schwab & Co.