The labor market in the Middle East and North Africa (MENA) region is the most inefficient according to the World Economic Forum's Global Competitiveness Index. Rising youth population and high unemployment rates is a chronic issue in the region. The IMF notes that Egypt has to create 700,000 new jobs every year to keep its current unemployment rate the same. It is highly unlikely that Egypt would be able to create such high number of jobs per year.
One of the main reasons for lack of job growth in the MENA region is the bloated public sector according to a research report by Deutsche Bank. This is not surprising since in many emerging and frontier markets the state is the largest employer. In the MENA region the dependence on state for employment opportunities become even more severe since private sector growth is limited. The regimes in the region also employ a high percentage of the working population in order to prevent social unrest.
Click to enlarge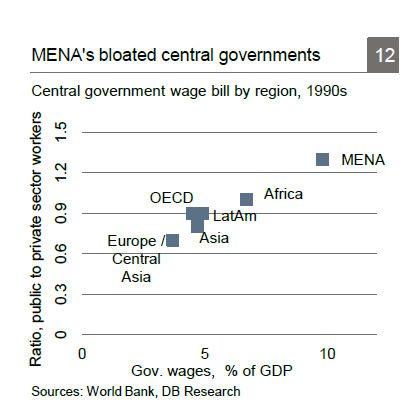 From the Deutsche Bank report:
Perhaps more importantly, the public sector accounts for an outsized portion of employment in the Middle East, 9.8% of GDP compared with the global average of 5.4% (see chart 12).Taking only non-agricultural employment, in 2010 public employment constituted 42% of total employment in Jordan and 70% in Egypt.On average, public-sector salaries accounted for 35.5% of government expenses in 2009 for regional governments.

In addition to crowding out the private sector, this system has created an environment in which young job-seekers find working in the public sector more desirable. The 2003 Syrian Unemployment Survey indicated that 80% of young unemployed persons found a public-sector job preferable to a private-sector position.

The large public sector has also bred a lack of economic dynamism in the region, further setting back employment gains.
Related ETFs:
Market Vectors Gulf States (MES)
PowerShares MENA Frontier Countries ETF (PMNA)
Disclosure: No Positions