The Price to Earnings(P/E) ratio is one measure to determine if a market or a stock is cheap of expensive. P/E ratios alone cannot be used as a deciding factor in investment selections. However it can be used in conjunction with other factors to identify potential investment opportunities and markets or stocks to avoid.
The following chart shows the P/E ratios of the constituents of the MSCI Emerging Markets Index as of January 31, 2013. A few other emerging markets are also included for comparison purposes:
Click to enlarge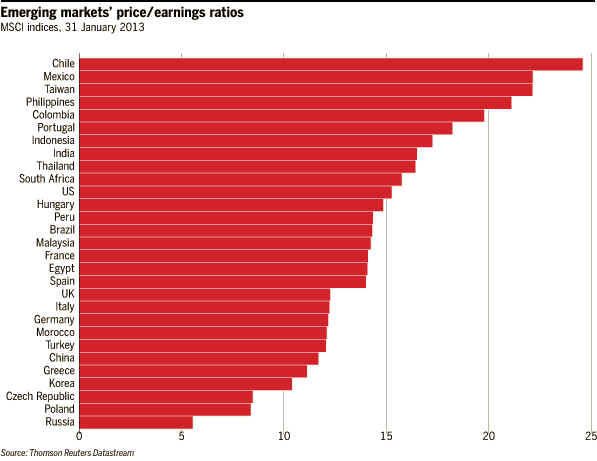 Source: Chart of the week: EM shares – the cheap and the expensive, FT beyondbrics blog
Chile is the most expensive market now while Russian stocks are cheap based on the P/E ratio. The Latin American markets of Colombia and Mexico are also richly priced now. It is interesting to see that Brazil is neither expensive nor cheap at current levels.
Related ETFs:
iShares MSCI Mexico Investable Market Index (EWW)
iShares MSCI Brazil Index (EWZ)
Market Vectors® Russia ETF (RSX)
iShares MSCI Chile Index Fund (ECH)
Disclosure: No Positions