The U.S. allocates more funds for defense expenditure each year than a group of most of other developed countries.Despite the fiscal cliff and any other political theater there is always enough funds available for the Pentagon.
The following chart from Peterson Foundation via slate shows the size of U.S. defense budget relative to other countries: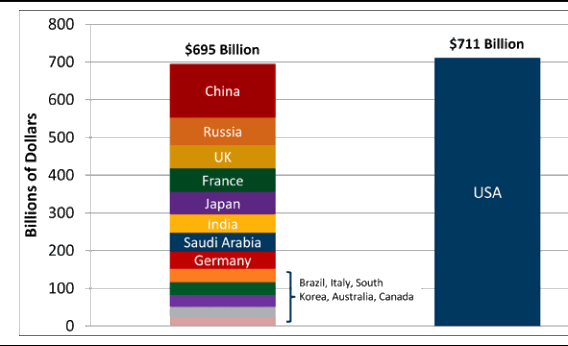 Source: There's Always Money in the Defense Budget, The Slate
The major beneficiaries of this huge defense expenditure year-after-year are the defense contractors that sell all the cool toys the Pentagon uses on a daily basis. This is one strong reason to invest in defense stocks at any time.
In addition, the U.S. is also the world's largest exporter of weapons and other defense equipment.This also benefits the defense contractors as they are eagerly able to sell expensive products to friendly countries. It should be noted that weapons trade is one of the very trade sectors that is not taxed by most national governments.
Here is a chart showing the performance of S&P'500 Defense and Aerospace Index since 2001: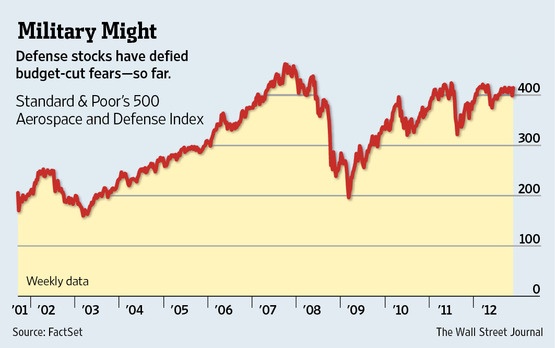 Source: Is It Time to Play Defense on Defense-Company Stocks?, The Wall Street Journal
Most of the large defense companies have long-term contracts with the Pentagon and other Federal agencies and generally have stable revenues. All these factors make investments in this sector a wise strategy.
The top 10 defense and aerospace companies based on market capitalization and trading on the NYSE are listed below:
1.Company: United Technologies Corporation (UTX)
Current Dividend Yield: 2.49%
2.Company:The Boeing Company (BA)
Current Dividend Yield: 2.52%
3.Company:Lockheed Martin Corporation (LMT)
Current Dividend Yield: 4.89%
4.Company:General Dynamics Corporation (GD)
Current Dividend Yield: 2.89%
5.Company: Raytheon Company (RTN)
Current Dividend Yield: 3.44%
6.Company:Northrop Grumman Corporation (NOC)
Current Dividend Yield: 3.26%
7.Company:Rockwell Collins, Inc.(COL)
Current Dividend Yield: 2.01%
8.Company:L-3 Communications Holdings, Inc.(LLL)
Current Dividend Yield:
Note: Dividend yields noted are as of Jan 16, 2013
Disclosure: No Positions