Brazil's Bovespa index is up just 6.5% year-to-date(YTD)  and China's Shanghai Composite index is basically flat YTD. Investors' attraction towards China has waned much more than towards Brazil in the past few years. The Shanghai Composite index fell deeper during the financial crisis than the Bovespa. But unlike Chinese stocks, Brazilian stocks have recovered strongly since the depth of that crisis. The Bovespa index is up just over 270% since 2000 while the Shanghai Composite is up less than 50% as shown in the chart below:
Click to enlarge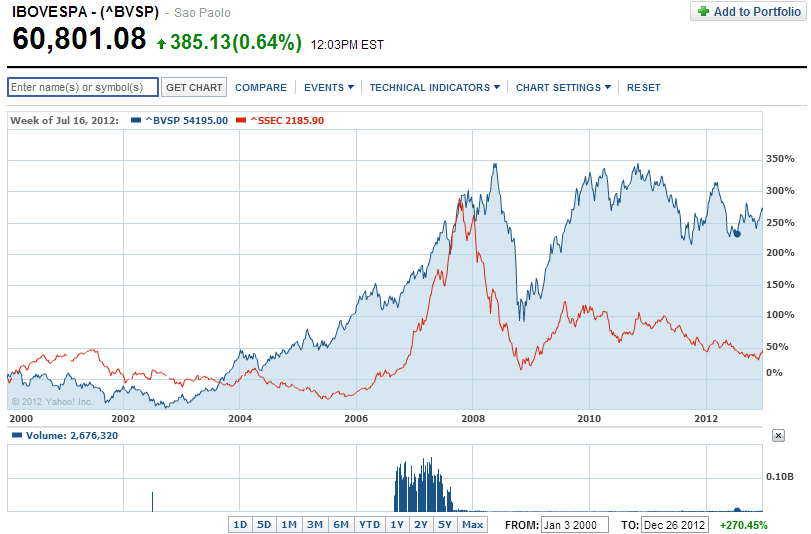 Source: Yahoo Finance
Brazil is a major commodity exporter and also is increasingly exporting more manufactured goods. China, on the other hand is mostly a consumer of commodities from other countries including Brazil and is a major exporter of manufactured goods.Private consumption of goods and services is growing much stronger in Brazil than in China. One reason for the retail sector growth in Brazil can be attributed to the increased availability and use of credit. However in China credit growth is lower.
Though one cannot use the past performance to predict the future, many factors including the hosting of Summer Olympics and FIFA World Cup, low unemployment rate of 5.3% as of October tend to be in favor of Brazil than China.
Related ETFs:
iShares MSCI Brazil Index (EWZ)
iShares FTSE/Xinhua China 25 Index Fund (FXI)
Disclosure: No Positions