China and India have two of the world's largest population at over 1.3 and 1.2 billion respectively. As these countries emerge from an agricultural-based economy to a modern industrial economy, the demand for electricity continues to rise.
Among the BRIC countries, Brazil generates most of its electricity from hydro power and is able to meet the rising demand. Power infrastructure in  not a major issue throughout the country and the country is in fact a net exporter of electricity to neighboring countries.With a relatively small population, Russia produces electricity from a variety of sources and electricity infrastructure is good enough to meet its domestic needs.
As the world's democracy, India is struggling to meet the soaring demand for electricity. Years of neglect in infrastructure development, corruption and myriads of other reasons has led to a situation where the power grid is unable to supply enough power to consumers and businesses alike. Earlier this year millions of Indians were plunged into darkness for hours due to a major power outage. Coal is the major source of power production in India and building of nuclear plants takes years due to politics and opposition from the population. Even today India lags China in electricity generation and investment in power projects.
Unlike democratic India, China's one-party system allows quicker and easier development of major infrastructure projects.The Chinese follow a methodical approach to defining a vision and developing the country with a blueprint as defined by the five-year plans. Transportation, electricity and other infrastructure development are included consistently in these plans including the most recent twelfth five-year plan.Nuclear power generation is accepted by the population and China is currently building the highest number of nuclear plants in the world.
According a research report by CIBC World Markets, the growth in electricity generation in China has been consistent:
Click to enlarge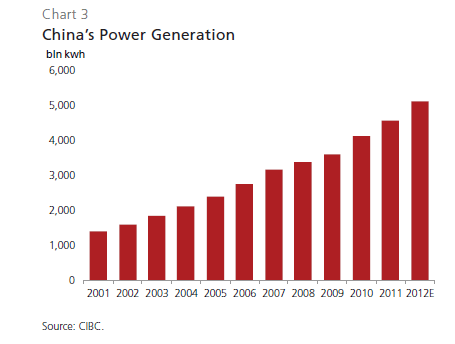 Source: A look to the future, 2013 Edition,  CIBC World Markets
Though the demand for copper has slowed in recent months, CIBC expects it to increase next year. This prediction is based on the current five-year plan which is projected to spend RMB 5.3 Trillion in power infrastructure between 2011 and 2015. About 45% of China's copper consumption goes to power infrastructure. CIBC's research shows a strong positive correlation between power production and copper demand in China. So when additional investments are made next year to upgrade the electricity infrastructure Chinese copper consumption should rise further.
How to invest in Copper?
Some of the Copper ETNs and ETF trading on the US markets are:
iPath DJ-UBS Copper TR Sub-Index ETN (JJC)
iPath Pure Beta Copper ETN (CUPM)
United States Copper ETF (CPER)
For investors willing to go the individual stocks route, some of the options are Freeport-McMoRan Copper & Gold Inc (FCX), Southern Copper Corp(SCCO), Teck Resources Limited (TCK),General Moly, Inc(GMO), Silver Bull Resources (SVBL), Timberline Resources Corp(TLR).
Disclosure: No Positions