The Shanghai Stock Exchange Composite Index is down 5.31% year-to-date. Among the BRIC countries, Brazil, India and Russia are performing much better with India's Sensex up by more than double digits YTD.
The Chinese economy grew by only by 7.4% in third quarter this year which is lower by the country's earlier growth figures. China has predicted the economy to grow by 7.5% for the next few years. Western companies with high exposure to China are already preparing for the slowdown, according to an article in The Guardian. As China is a major consumer of commodities, countries that depend on China will be heavily impacted by this slowdown.
The follow chart shows the dependency of key commodity markets on China:
Click to enlarge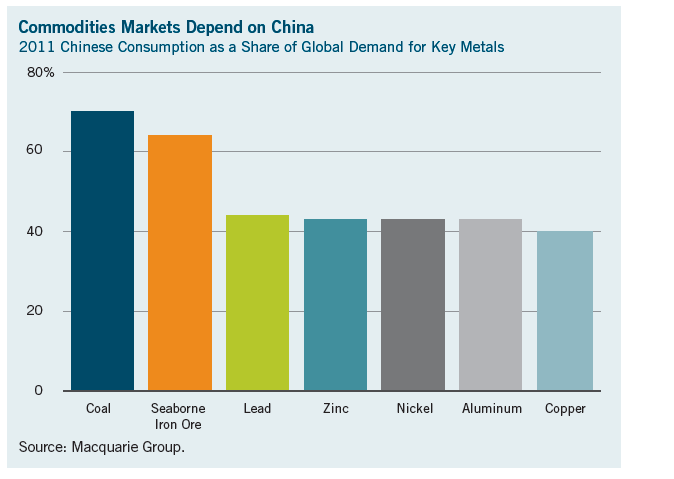 Obviously China's major trading partners will be the countries that will be most affected in addition to countries that depend on commodity exports to China such as Australia and Brazil.
The countries that are most vulnerable to China is show in the chart below: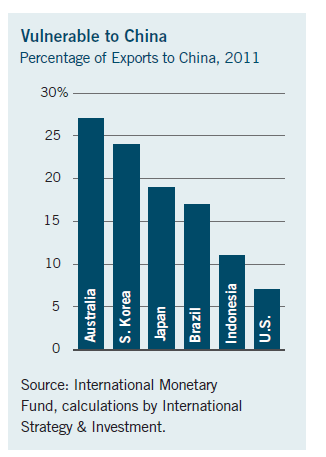 Source:  The China Syndrome, T. Rowe Price Report, Issue No. 117 Fall 2012
Quoting an article the Wall Street Journal the T.W.Rowe Price Report noted:
"Economies in the region are perching perilously on an increasing dependence on China.…Every major economy in Asia has seen exports to China grow faster than to the rest of the world."
China's top Asian trading partners  South Korea, Japan, Taiwan, and Indonesia. As Australia is highly dependent on China, investors need to be cautious on making any investments there. In a general, the China's slowdown will not only impact the countries noted above but the whole global economy as well due to globalization.
Related ETFs:
Disclosure: No Positions