Mexico is one of the best performing emerging market this year. Mexico's IPC index is up 9.7% so far this year. Despite the drug violence investors have been bidding up Mexican stocks  due to strong economic growth and political reforms. From an article in The Wall Street Journal in August:
Earlier this year, Mexican shares were driven higher largely by investors cheering the July election of incoming President Enrique Peña Nieto and the promise of market-friendly changes. Now the rally is showing more staying power as investors zero in on manufacturing-driven economic growth, the widening regional footprint of some Mexican companies and expectations of an expansion of consumer credit—even though Mexico's close ties to the U.S. economy remain a concern, many investors and analysts say.
After reaching an all-time high of 42,750 last month the IPC index settled at 40,677 yesterday. The long-term performance of the Mexican equity market is astonishing as shown in the chart below:
Click to enlarge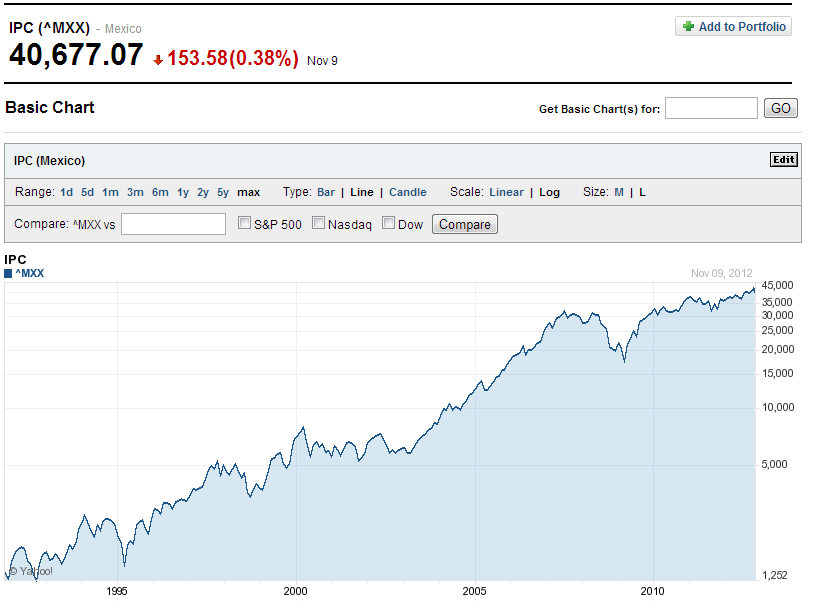 Source: Yahoo Finance
While the S&P 500 rose by under 500% in the period shown above, the IPC increased by just over 2,500%.
The graph below shows the Year-To-Date(YTD) performance of Mexican stocks listed on the US exchanges:
Click to enlarge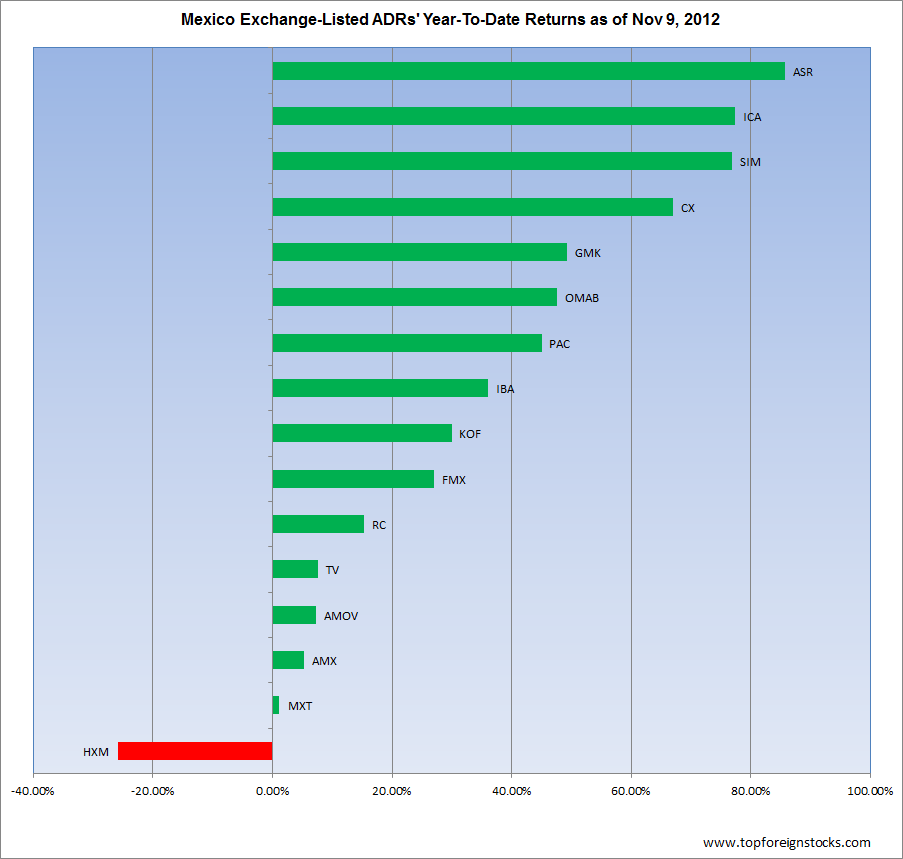 Airport operators Grupo Aeroportuario del Sureste (ASR), Grupo Aeroportuario del Pacifico(PAC) and Grupo Aeroportuario del Centro Norte (OMAB) have performed well due to increasing tourism traffic to the Mexican beach resorts such as Acapulco, Cozumel, Cancun, etc. While traditionally North Americans vacationed in Mexico in large numbers, the economic recession has given an added incentive to go cheaper vacation destinations such as Mexico. Coca-Cola Femsa(KOF), Fomento Economico Mexicano(FMX) and cement maker Cemex(CX)  are also good choices to profit from Mexico's growing economy. Investors looking to add Mexican stocks can add during pullbacks from current levels.
The iShares MSCI Mexico Investable Market Index Fund (EWW) also gives a simple and easy way to gain exposure to the Mexican equity market. With assets of over $1.4 billion the ETF has an yield of 1.40%. The average annualized total returns in 10 years is 20.30%.
Disclosure: No Positions