Is the Canadian housing market in a bubble or not? Its a question that Canadians and foreign investors in Canada worry about these days. Almost not a week goes by without the media talking about the housing market in Canada. This is because housing prices in Canada continue to remain strong despite weakness in the economy. Rightly so many investors wonder how long the party can last.
Though the Canadian economy is highly dependent on the U.S., the country's housing market has remained exceptionally strong in the past few years. Instead of trying to predict if the housing market in Canada will crash or not, investors may be better off trying to understand why the market is holding up so well. Though the U.S. and Canada are closely integrated in many ways, the housing markets are vastly different between the countries. In this post, let us take a look at some of the differences between the U.S. and Canadian housing markets.
The chart below shows the growth of house prices in US and Canada since 2000:
Click to enlarge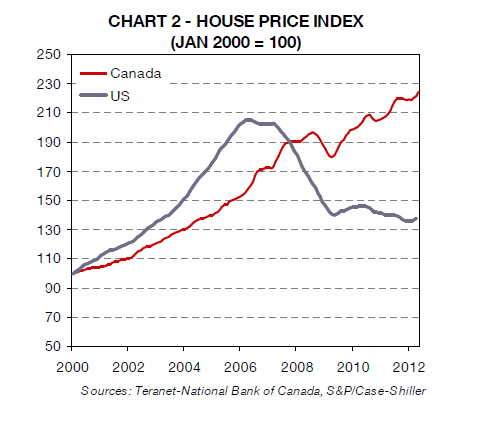 Home prices in Canada have followed an upward trend since 2000. While housing prices fell during the recession starting in September 2008 prices have again recovered strongly to exceed pre-recession levels by about 14.1%. Compared to the Canadian market, the prices in the U.S. have fallen heavily since the recession and only this year has started to moderate or rebound slightly.
Some of the difference between Canadian and U.S. housing markets are listed below:
[TABLE=1127]
Source: Housing Market and Macroprudential Policies: Is Canada a Success Story?, Econote, August 2012, Societe Generale