State-owned banks play a dominant role in the banking industry in many emerging markets such as Brazil, China, India, etc.Unlike private sector and foreign banks, state-owned banks are highly influenced by local politicians and the government.Hence it is not unusual for these banks to lend liberally to projects such as infrastructure development, housing, etc. that are supported by the  government.In addition, in the name of offering banking services state-owned banks also operate in rural and undeveloped areas which are not serviced by private and foreign banks.
In the developed world, the banking industry is run by the private sector.State-owned banks are virtually unheard of in most developed countries. In the US, the only bank owned by the government is the Bank of North Dakota in the state of North Dakota. Despite being run as profit-making private enterprises, developed world banks are no better than state-owned emerging market banks in many aspects.U.S. banks together with Wall Street caused the global financial crisis and the ensuing crisis forced the shutdown of more than 400 banks.The too-big-to-fail banks have to be bailed out in order to prevent their collapse and further risks to the economy.These banks undertook reckless lending, and followed other risky strategies despite being regulated by multiple government agencies and following some of the "best practices" in the industry.Canadian banks are the exception in the developed world due to the strict regulations enforced by the Office of the Superintendent of Financial Institutions (OSFI).
In the rest of the western world, regulators not only failed to do their jobs but in many cases actually enabled the financial crises.In addition to the global financial crisis, developed banks continue to surprise investors, depositors  and regulators alike with new losses or irregularities. The most recent one is the Libor rate manipulation scandal – courtesy of the British Banking industry. Compared to the developed world banks, banks in the emerging markets remained healthy throughout the global financial crisis and continue to remain strong with high capital adequacy ratios and low NPA levels. Brazilian banks, for example, maintain high capital adequacy ratios (CAR) among major Emerging markets.
The following charts shows that Brazilian state-owned banks have been increasing credit growth than private and foreign banks and the division of ownership of banking assets among public, private and foreign banks in select emerging markets:
Click to enlarge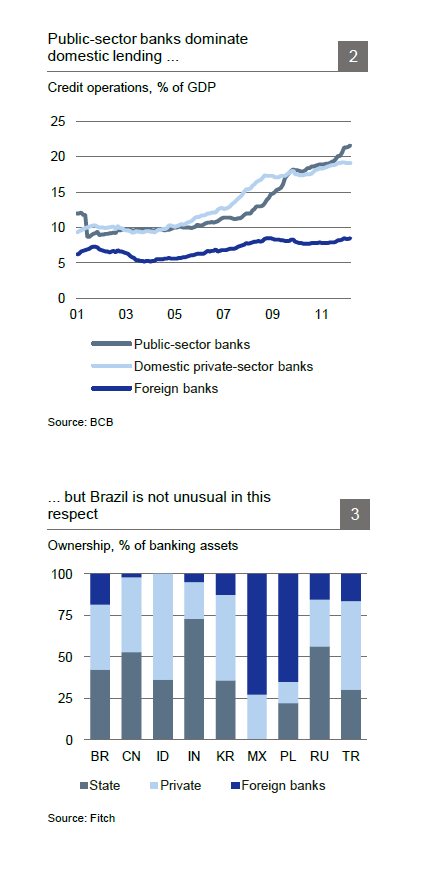 In China, Russia and India, state-owned banks account for over 50% ownership of banking assets while Mexico does not have banks operated by the government.
Source: Brazilian banking sector – a view from 30,000 feet, Deutsche Bank Research
Five state-owned emerging market banks are listed below for further research:
1.Bank: Banco Do Brasil (BDORY)
Current Dividend Yield: 2.40%
Country: Brazil
2.Bank:Bank of China (BACHY)
Current Dividend Yield: 12.35%
Country:China
3.Bank:China Construction Bank Corporation (CICHY)
Current Dividend Yield:  5.59%
Country: China
4.Bank:Industrial And Commercial Bank Of China Ltd (IDCBY)
Current Dividend Yield: 5.54%
Country:
5.Bank: Sberbank Rossii OAO (SBRCY)
Current Dividend Yield: 2.28%
Country: Russia
Note: Dividends noted are as of August 2, 2012
Disclosure: No Positions