UK-based oil and gas company BG Group (BRGYY) split its ADR stock 5 for 1 last week. Some details from the corporate site:
Effective 13 February 2012, the new BG Group ADR represents one ordinary share (previously one ADR represented five ordinary shares). As a result of the ratio change, ADR holders of BG Group plc will receive 4 additional ADRs for every ADR held as of the ADR record date.

New Ratio: 1 ADR: 1 Ordinary Share
ADR Record Date: February 10, 2012
ADR Payable Date: February 12, 2012
As a result of the ADR split after closing at $115.65 on Feb 13, 2012 the stock opened at $22.91 on Feb 14th. Yesterday the share price closed at $23.56.
A Brief Overview:
BG Group is a dynamic and growing energy firm with operations in more than 25 countries. Though headquartered in UK, over 60% of the employees of BG Group operate outside of the UK. The company has a solid history in the energy sector especially in the natural market where it is engaged in the entire chain from exploration to distribution to consumers. At the end of 2010, BG Group had " had 11.67 trillion cubic feet of estimated net proved reserves of natural gas and 945.8 million barrels of estimated net proved reserves of crude oil, condensate and natural gas liquids. "
Multi-year Performance Chart comparing BG Group with US oil giant Exxon Mobil:
Click to enlarge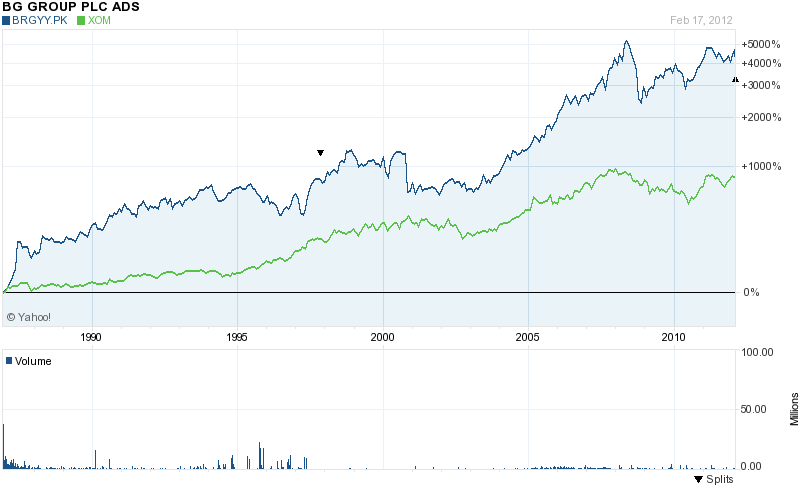 Source: Yahoo Finance
The difference in returns between the companies is highly significant as the above chart shows. Currently Exxon Mobil (XOM) has a $410.0 B market cap and a 2.20% dividend yield while BG Group (BRGYY) has a $80.0 B market cap and a dividend yield of  0.96%. Investors looking to add some foreign oil stocks to their portfolios can consider looking into BG Group.
Disclosure: No Positions