The four giant U.S. banks – Bank of America (BAC), Citigroup (C), JPMorgan Chase (JPM) and Wells Fargo (WFC) – hold billions of dollars in assets. However bigger is not always better in the banking industry. Though the big banks have the full support of the U.S. government to bail them out if they run into trouble, in terms of delivering positive returns to investors they have been poor performers as confirmed in the past few years. There are many small banks that have been good to their shareholders and have strong relationships with the communities they serve. One such bank is The Little Bank (OTCB: LTLB) based in Kinston, North Carolina.
The following chart shows the 10-year return of Little Bank and the four super banks:
Click to enlarge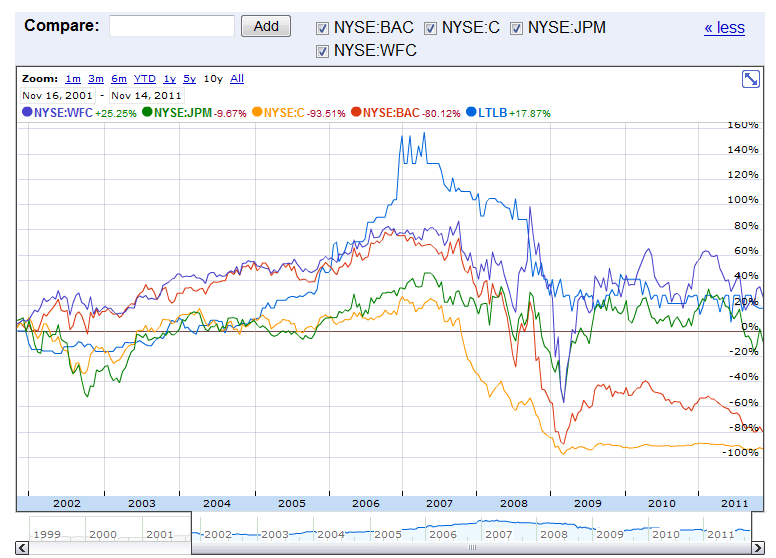 Source: Google Finance
Except Wells Fargo all the other three banks had lower returns than Little Bank in the period shown.
From the bank's website:
the little bank was founded by a group of prominent Eastern North Carolina businessmen in November of 1998. The Bank's guiding principal is that old fashion personal service is as valuable today as it was 100 years ago.

Today, the little bank has six branches in Kinston , LaGrange, Goldsboro , Jacksonville, New Bern and Greenville .
Little bank bank has total assets of $307.4 million as of September 30, 2011. From the third quarter earnings report:
The little bank (the "Company"), today announced a 37% increase in unaudited net income for the quarter ended September 30, 2011. Net income was $639,000 or $.25 per basic share compared to earnings of $465,000 or $.18 per basic share for the quarter ended September 30, 2010. After adjusting for dividends and the accretion of discount on preferred stock under the Capital Purchase Program, net income available to common shareholders was $518,000, or $.20 per basic share for the quarter ended September 30, 2011, compared to $345,000 or $.13 per basic share for the comparable period in 2010.
Disclosure: No positions