Fidelity Invesments' Viewpoints recently published an interview with Doug Lober, manager of Fidelity Canada Fund (FICDX). In the interview Doug discusses the strong performance of the Canadian equity market relative to other developed markets and some of the opportunities that await investors north of the border.
From the article titled Canada: Land of opportunity?:
Developed countries have found themselves in the economic doghouse of late, saddled with debt, financial crises, and stock markets that have produced middling returns with maddening volatility. A striking exception has been Canada, where stocks have risen an average 13% a year over the last 10 years. A hypothetical $1,000 investment in the S&P/TSX Composite Index, an index of the stock prices of the largest companies on the Toronto Stock Exchange (TSX), on August 1, 2001, would have been worth $3,455 on August 31, 2011–versus only $1,305 had you invested it in the S&P 500® Index (SPX) during that same period.
The following graphic shows the 10-year return of the Canadian market vs. other developed markets:
Click to enlarge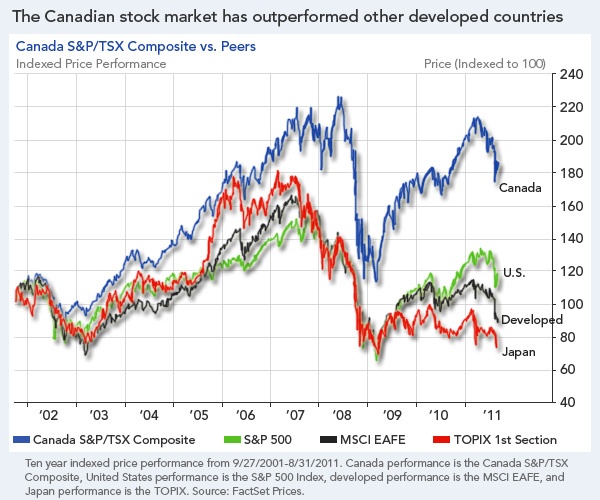 Source: Fidelity Viewpoints
Note: The returns noted above are in US dollars.
Doug noted that about two-thirds of the Canadian returns has come from stock market gains with the other one-third from appreciation in the Canadian dollar.
Investors looking to gain exposure to the Canadian market have a wide range of companies to choose from that trade on the U.S. markets. As the country is primarily a commodity-based economy, energy and mining stocks dominate the domestic equity market. However investors can find many companies in the banking, healthcare, utility and other sectors that are stable and earn decent returns year after year.
The following is a list of ten Canadian companies currently having attractive dividend yields:
1.Company: Manulife Financial Corp (MFC)
Current Dividend Yield: 3.82%
Sector: Life Insurance
2.Company: Bank of Nova Scotia (BNS)
Current Dividend Yield: 3.71%
Sector: Banking
3.Company: Royal Bank of Canada (RY)
Current Dividend Yield: 4.31%
Sector: Banking
4.Company: Toronto Dominion Bank (TD)
Current Dividend Yield: 3.37%
Sector: Banking
5.Company: Rogers Communications Inc (RCI)
Current Dividend Yield: 3.92%
Sector: Telecom
6.Company: Shaw Communications Inc (SJR)
Current Dividend Yield: 4.61%
Sector: Broadcasting & Cable TV
7.Company: Enbridge Inc (ENB)
Current Dividend Yield: 2.86%
Sector: Natural Gas utilities
8.Company: Sun Life Financial Inc (SLF)
Current Dividend Yield: 5.73%
Sector: Life Insurance
9.Company: TransCanada Corp (TRP)
Current Dividend Yield: 3.72%
Sector: Natural Gas utilities
10.Company: Telus Corp (TU)
Current Dividend Yield: 4.39%
Sector: Telecom
Note: Dividend yields mentioned above are as of market close October 28, 2011
Disclosure: Long TD, RY and BNS