The US banking industry is still suffering from many fronts despite the billions of dollars in bailouts in the past few years. Accordingly investors are dumping bank stocks with no end in sight. Today Bank of America (BAC), one of the super-banks fighting for investors' respect, reached a new low of $5.52. Like Citigroup (C), the bank may have to initiate a reverse stock-split should the stock price continue to decline.
The closely-watched  KBW Bank Index (BKX) lost about 4.80% today. The index is on a downtrend heading towards the lows reached in March 2009 or even lower.
5-year performance of the KBW Bank Index
Click to enlarge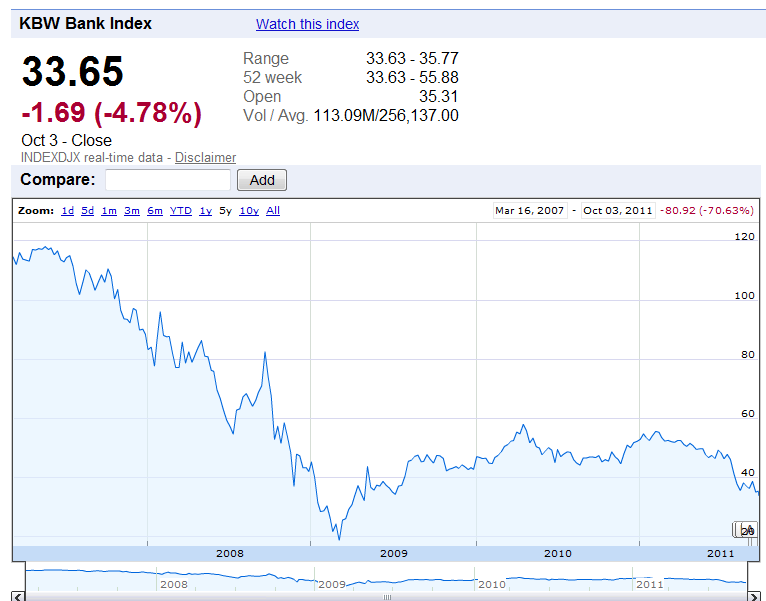 Across the pond, European banks endured another beating today as well. While US banks were the focus of investors' attention in the previous credit crisis, this time around many European banks are staring into the abyss. As European bank stocks fall on a daily basis US banks tend to follow. A report by Goldman Sachs last week noted that the correlation of US banks with European banks has increased dramatically in recent months.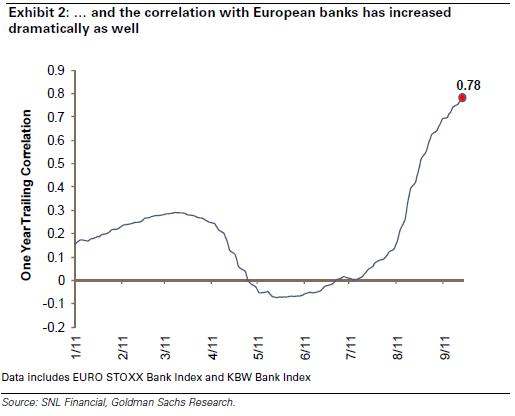 Via: FT Alphaville
From the Goldman report:
Unlike in 2008, we believe this time it is not about capital, but about a weakening macro picture and a sovereign crisis in which no clear resolution appears in sight, which we think is why every single bank we cover has underperformed the broader markets. One would have thought the market would reward those with strong balance and robust capital positions, but it has not, which signals those are not the key issues this time. While we expect the market to eventually start rewarding banks for fundamental outperformance, correlations are likely to remain high at least until contagion fears in Europe are reduced and we have a better understanding of the macro backdrop in the US.
The key takeaway here is to avoid US bank stocks until the dust settles in Europe. The political drama played out on both sides of the Atlantic since the credit crisis suggests that it may take a few years for the industry to wipe the slate clean and get back to "normal".
Related ETF:
SPDR KBW Bank ETF (KBE)
Disclosure: No Positions